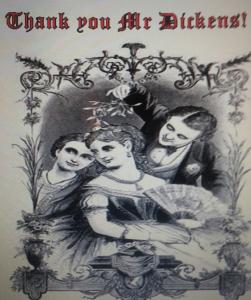 Business is slow in this Victorian 'House of Comfort' where Edna, Clarry and Mary face a dismal Christmas. They are behind with their rent, have no coal for the fire, no food, and they have run out of gin. To add to their problems, Edna has invited Sadie, a damsel in distress, into their midst.
Another visitor arrives in the form of Mr Hope, one of Mary's regular customers. Unfortunately, he brings his own problems as he is on the run and is being chased by Grubber and Jake, two roughnecks from the local public house.
With the impending visit from Ma Frinton, their landlady, and the fear of eviction, the ladies feel all is lost, until Charles Dickens arrives on the scene.
He's not there to sample the ladies' delights, but has brought with him a purse of gold coins to exchange with them for some material to allow him to write his new novel. Naturally, where money is involved, the ladies are happy to provide as much information as he wants using all their imagination and over- exaggeration.
Could he be the answer to their prayers? Not before family secrets have been exposed and true identities revealed with hilarious consequences. Will Mr Hope be rescued? Will Ma Frinton get her rent? Will Mr Dickens leave with a best seller under his belt, and do the ladies get the Christmas they have dreamed of?
Authors
Related Shows
Photos
Cast
Principals (4m, 5f)
Edna : Any age. A Victorian prostitute with a strong character
Mary : Any age. A Victorian prostitute, soft-hearted, gullible
Clarry : Slightly older. A Victorian prostitute, forthright, down to earth
Sadie : Younger. Pretty, well educated, well-spoken
Ma Frinton : their landlady. Older, hard as nails, uncouth.
Charles Dickens : a kind hearted Victorian gentleman
Grubber : a roughly spoken neer-do-well, tries to be tough
Jake : Grubber's sidekick.
Sir William Beaufort : an upper class snob, Edna's customer.
Support (1m)
Mr Hope : Mary's customer.
Policeman : an offstage voice
Sample Script
Production Costs
12.5%