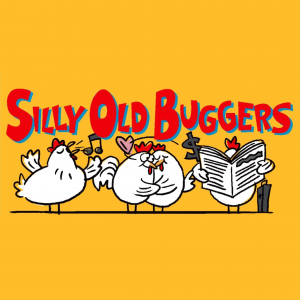 The hit production of the 2009 Melbourne Comedy Festival.
"A delicious look at aging. A warm, poignant and very amusing blend of songs and pithy dialogue performed by a talented cast. I highly recommend the show for all age groups!" Alan Fletcher, 'Neighbours' actor
"I directed 'Silly Old Buggers' which was a howling success and we regretted not putting it on in the larger theatre. We put it on in our dinner theatre room with a capacity of 90 and it was sold out from the second night of six performances, with a waiting list for the final three. The cast had so much fun with it and the audience responded accordingly." Eilean Rawson, Whangarei Theatre Company, New Zealand 2016
Life is meant for living! And that's what they're going to keep on doing until they drop.
Sure, they have to deal with stuff: doctors, pensions, wrinkles — you name it — but that's what music and laughter are for, right?
Chloris was an opera singer, Paul a truck driver, Martin was a merchant banker and Helen a school principal.
Put them together as they arrive at 'a certain age' and you have four silly old buggers determined to have fun.
There are lots of songs set to familiar and well-loved tunes with new and hilarious lyrics
Songs like:
"Fight for your rights, don't let the bastards win!" and
"Family skeletons".
Who says getting older is a problem? No grumpy old people here! Just songs and celebration.

Video
Authors
Related Shows