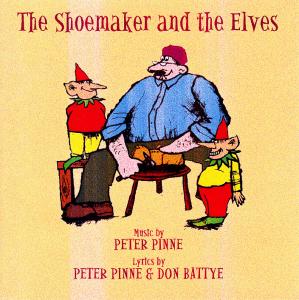 "A brilliant children's musical."
"Plenty of catchy tunes, a nice clear storyline, loads of color, and several engaging characters," was how Sally White in The Age described the original production of The Shoemaker and the Elves.
Over-the-top production values and outrageous colorful costumes, had audiences happily clapping and singing along to this tap dancing delight.
The show, based on the well-known fairytale, about a shoemaker going through lean times until the arrival of the magic elves, is delightfully updated in this version which pits the shoemaker against the evil, richest woman in town, and has him winning the distinguished 'Shoemaker of the Year' award.
The score contains many highlights including the deft '50s pop doo-wop "Silver," and the joyous, "Happy Shoes," a song that's guaranteed to get your toes tapping.
Available with CD Backing Track.

Video
Authors
Related Shows
Photos

Plot / Synopsis
Mr. Buckle, an elderly shoemaker, and his daughter, Carolinda, are going through hard times. His eyesight is failing and he has no business.
A group of Elves led by Slipper arrive in town to help Mr. Buckle. During the night they work feverishly to produce a beautiful pair of golden slippers.
Mr. Buckle and Carolinda are astounded at the workmanship and where they came from, but when Lord Lopsided enters to purchase some new shoes he is captivated by them. When he puts them on they make him dance.
Lord Lopsided spreads the word that Mr. Buckle is making a superior shoe. Silver Sequin, the evil, richest woman in town, and Mr. Buckle's competitor, is not happy.
She's losing business including her best customer Dame Squeaky.
Later Jingles, Silver Sequin's assistant, lets it slip that Mr. Buckle's shoes are made by Elves and that they are magic. Silver Sequin doesn't believe him and late one night creeps into Mr. Buckle's workshop to see for herself. She discovers the Elves working and captures Slipper.
The Elves are lost without their leader and their magic just won't work. They decide to search for him. Slipper is being held prisoner by Nasty Neville at Silver Sequin's great big country shoehouse.
The Elves, helped by Mr. Buckle and Carolinda and Jingles, who has now changed sides, come across the hiding place and rescue Slipper.
At the 'Shoemaker of the Year' awards, Mr. Buckle and Silver Sequin are competing for the distinguished title. King Jolly tries on Silver sequin's shoes and is happy, but when he tries on Mr. Buckle's he is even happier because they make him want to dance.
He orders Silver Sequin to put on Mr. Buckle's shoes and against her will she starts to dance too. Mr. Buckle wins the award, Silver Sequin has a change of heart and gives the great big country shoehouse to the Elves, and the whole town can't stop dancing in their 'happy shoes.'
Cast
Slipper
Indeterminate age. Needs an actor who has an audience rapport. Must have dancing skills.
Elves
Young dance students. Various ages.
Silver Sequin
40s Outrageous, viperfish, with a flair for comedy.
Jingles
25 A warm character who is perpetually being manipulated by the boss.
Mr. Buckle
50-60 Kindly old man with poor eyesight.
Carolinda
20-25 Sweet young girl. Soprano range.
The following four roles are played by the same actor. It requires someone versatile.
Lord Lopsided – He is lopsided. He walks in an exaggerated manner. A fop.
Dame Squeaky – A panto dame with shoes that squeak.
Nasty Neville – Silver Sequin's gaoler. A villain who can bring hisses and boos from the audience.
King Jolly – An overweight, but happy and jolly monarch.
Sample Music
Silver Sequin.
Happy Shoes.
Great Big Country Shoehouse.
Instrumentation / Rentals
Piano or small group. Superb CD Backing Track.
Production Costs
12.5% of Box Office Gross.