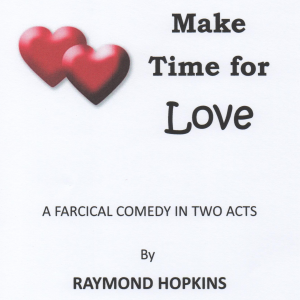 They say behind every successful man is a supportive woman, and Julie Hardisty is certainly that. Her husband, Brian, is a pillar of society and well respected in the local community. For her part, Julie enjoys the status their lifestyle brings.

However, all is not as it seems in this idyllic family. Brian feels trapped in their loveless marriage. He also resents the endless civic commitments he has taken on.

Completely out of character for this stable, upright citizen he decides to make a clean break from everything. He secretly starts planning to leave the marital home and travel around the world alone.

Unbeknown to Brian, a local television company has organized an award ceremony in recognition of his outstanding work in the community.

Duration : 90 minutes.
By a twist of fate, the presentation broadcast is due to go out live on the same day that Brian disappears to begin his travels. From that point onwards Julie's life is destined to change for ever.
Authors
Related Shows
Cast
IN ORDER OF APPEARANCE
2M 7F
brian hardisty  About sixty. Looks very good for his age. Smart in appearance. Well educated and articulate. Has been married to Julie for thirty-five years. Sadly, the marriage now lacks any love or affection. A pillar of society. Involved in several community commitments. Always taken life too seriously, consequently feels that he has missed out on having fun.
JULIE HARDISTY (Wife of Brian) About fifty-six. Slim and smart in appearance. Enjoys socializing. Lots of friends. Enjoys being in the limelight. Enjoys male company. Envious of her husband's standing in the community.
HELEN JACOBS  (Oldest daughter of Brian and Julie) About thirty-four. Slim in build. Fairly plain. Married with two young children. Gets on well with her mum and dad.
TRACY ANDREWS  (Close friend of Brian and Julie)  About forty-nine. Average build and height. Well groomed and smartly dressed. Treats her husband Roy with contempt. Bordering on being a snob. Enjoys spending money.
ROY ANDREWS (Best Friend of Brian. Husband of Tracy) Forty-six. Good looking and smart in appearance. Has been dominated by his wife. Still likes to have fun from life. A bit of a 'Jack the Lad'. Lots of charisma.
karen spencer  (Television reporter) About thirty-six. Good looking. Immaculate dress sense. Full of confidence. Well educated. All the men in her life have let her down. She is now concentrating on her career in the media.
LUCY BLACKWELL  (Youngest daughter of Brian and Julie) About thirty-one. Overweight at the start of play but has slimmed down considerably and looks lovely (suggest remove padding) by end of play. Married without children. A bit of an emotional wreck. Does not always hit it off with her mum. Loves her dad beyond question.
pam stanbrook  (Neighbour and friend) About sixty-seven. Shabbily dressed and poorly groomed. Does not stop talking. A real bore, although there is something about her one can't help liking. Slightly slow in picking up on what's going on. A bit of a 'busybody'.
JESSICA FINDLAY  (New lady friend of Brian) About forty-seven. Very attractive with a good figure. Painfully shy. Kind and considerate. Well spoken. Getting over the break-up of her marriage.
Sample Script
Production Costs
12.5% of Box Office