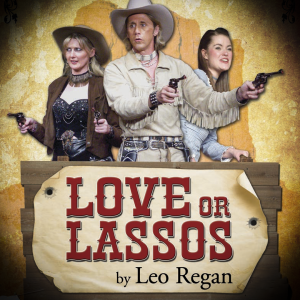 Follow the adventures of our hero Rock Hard as he battles against the villainy of Whiley J Whiplash who will do anything to get his hands on the
bar Lazy J Saloon.

Can Penelope Pureheart find her true love?
Will Sean O'Reilly ever find a new wife to replace his long lost Martha?
Will Belle save the bar Lazy J with her showmanship?
What does Chief Hi Howarya have in his pipe?
Will Jed ever get his teeth back from the Chief?
What is Molly's deep dark secret?
What does the Doc really want to be?
Can Sugar and Toots help Doll Face from the curse of the demon drink?
And what shock is unearthed for Ruby and Rock?

Find out in the continuing adventures of Love or Lassos or Whiley's
wicked ways.
Video
Authors
Related Shows
Photos
Cast
A ROOTIN TOOTIN WESTERN MELODRAMA FOR 6M+7FM AND
EXTRAS,
Simple single set. Running time 90 minutes.
Whiley J Whiplash Villain
Rock Hard Hero
Penelope Pureheart O'reilly Heroine
Sean O'reilly Father
Ruby Montana Cowgirl
Belle Star stage star
Doc Doctor
Molly Sheriffs Wife
Jed Barman
Ernie The Extra
Chief Hihowarya Indian Chief
Doll Face Lead Dancer
Sugar Dancer
Toots Dancer

Production Costs
12.5% of Box Office.