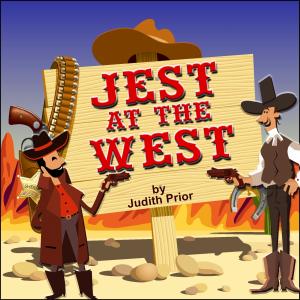 Comic cowboy send up of the American Wild West.

The Silver Slipper is in financial trouble on account of the drought. Maggie May and her girls have tried to diversify, but there isn't much to do to stimulate new business.

Little White Dove and Father O'Malley have tried their best to rescue the town, but all seems lost, when Cecil turns up from the city. Maggie's mortgage with the Wild Westpac bank is about to be foreclosed. Even the flapjack flippin' competition hasn't raised enough money to clear the debt.

How this bunch of larger than life characters rally 'round and pull together to save their town, is a rootin' tootin' ton of fun. How the West was Fun!!

Upper Hunter Mummers NSW "JEST AT THE WEST We had 4 fantastic performances and had the audience rolling in the aisles, They wanted more!! Maybe we will have to do the sequel !!

✮This play has been performed by over One Hundred Theatre Groups in Australia and remains Judith's most popular work to date.
Authors
Photos
Plot / Synopsis
"Jest at the West" is a complete send up of the Wild West. The action takes place in The Silver Slipper Saloon and the audience are included as part of the Saloons patrons......So be sure to encourage the cast to include them in all the jokes.

If there is no stage available the set may consist of a small bar, one table and four chairs and perhaps a free standing set of bat-wing doors. If you have an obliging piano player it might be fun to incorporate him, or her, on stage as part of the cast.
Feel free to leave out some of the songs or add more if this suits your cast better e.g. If your Father O'malley is not a singer leave out his Irish song...Or you may like to have the Saloon Girls stay on in this scene and assist, or have the Irish number as an audience participation song. Perhaps a song for Johnny and the girls.
If you don't have strong singers mimed recorded musical numbers may be the way to go. The audience participation as in the flapjack flipping competition should be handled by your most experienced actors... With volunteers on stage Murphy's Law of Theatre is bound to apply! Jest at the West was first performed by Bundaberg Players Inc. in 1990 at The Playhouse Theatre Bundaberg Queensland. I hope your company enjoy a successful season and have as much fun with it as we did.

1. Deep In The Heart of Texas.
2. She'll be Comin' 'Round the Mountain
3. Kawlija or, I'm an Indian Too..Any Indian Song.

4. Silver Dollar ... a Gambling Song.
5. I remember it Well, or When I'm Old and Grey
6. Buttons and Bows or Ghost Riders in the Sky.....
7. Don't Fence me In, or Jail House Rock.
8. Running Bear, or Some Tom-Tom Music.
9. Home on the Range or Tennessee Wig Walk
10. Rag-time Cow-Boy Joe....Any Good Cow-Boy Song.
11. William Tell Overture..Lone Rangers Theme.
12. Galway Bay or Does Your Mother Come from Ireland.
13. When You and I were Young Maggie
14. Act Naturally, (They're gonna put me in the Movies)
N.B. This script is text only.
Above music is an indication only of the type of song suitable. Music is of your own choosing and copyright permission should be sought from the appropriate publishers of any songs used.

Cast
Cast required 8m 5f...... Chorus optional.
CHARACTERS:-

MAGGIE MAY Saloon Owner, Good Sport
WHITE DOVE Indian Squaw....Not too young
ANNIE Tom-Boy, wears trousers
SUE ELLEN Sophisticated Saloon Girl
MARY LOU Not so Sophisticated Saloon Girl
SAM (Could be Samantha) Understanding Bartender
WILD BILL Stagecoach Driver, Town character
FATHER O'MALLEY Irish Priest
SHERIFF Very Gullible Sheriff
CECIL Visiting City Dweller
JOHNNY Bandit, Has to be disguised as a Girl
GAMBLER Cameo Role
FARMER (Could be Farmers Wife.) Cameo Role

CHORUS OF COW-BOYS AND SALOON GIRLS OPTIONAL
Sample Script
Production Costs
12.5% of Box Office gross. Minimum $110 per performance. Scripts are $17.50 each or $165 for a licence to photocopy.