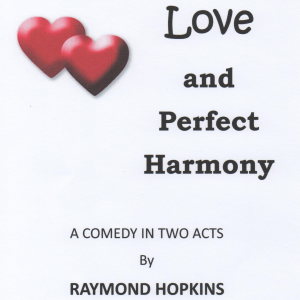 The comedy takes place in a back room of the local Corn Exchange in the south of England where the local choral society hold their rehearsals.
Edith Codsmore is a self centred, obnoxious snob who has always taken the lead role in the choir. However, when a young newcomer joins the choir, she is selected to take the solo role in an International competition which they have entered.This causes major friction which is exacerbated by the fact that Edith's daughter, Jenny, is having a fling with Hugh Jones, the son of Gavin, who is Edith's arch rival.
Odette Newbold is pregnant and has got her dates wrong. Is she going to give birth during the rehearsal?Their intrigues, quarrels and successes all add up to a most amusing, entertaining evening. Hardly any scenery or furniture is required which makes for ease in staging.
Includes four original songs which can be sung or mimed. The full music score is included in this script.
Authors
Related Shows
Cast
M4 F5.
TIMOTHY LEDBURY (Choir Master) About thirty-three. A very shy, unassuming person who is a romantic at heart. Well-groomed but without much dress sense. A very talented musician. Not a socializer. Lacks confidence in female company. Lives alone.
EDITH CODSMORE  (Choir Member) About fifty-two. A self-centred, obnoxious snob. Not the world's most likeable person. Overweight - immaculately turned out in expensive clothes. Puts on a posh voice which disappears when she gets angry. She is the Mayor's wife.
ODETTE NEWBOLD (Choir Member) About thirty-two. Well-groomed. She is very attractive. Assumes she is six, but is actually seven months pregnant. A bit gullible. A happy-go-lucky, kind person. She is living with a partner.
CYRIL FLATMAN  (Choir Member) About forty-two. Jack the lad. Not too worried about personal appearance. Has lots of interests and even more mates. Jack of all trades, master of none. Has been married ten years but does his own thing. A larger than life personality.
BERYL CORBY  (Choir Member) About fifty-three. From a poor background. A quiet, unassuming person. Always been hard-working and honest. She cannot afford expensive clothes but looks well turned out. Her husband does not enjoy good health.
JENNY CODSMORE (Choir Member - Daughter of Edith)   About twenty-one. Smart and petite. Been overpowered by her mum and therefore lacks self-confidence. Wants to start living her own life and have independence. Has none of her mother's traits. Deeply in love with Hugh.
HUGH JONES (Choir Member - Son of Gavin)   About twenty-four. Good looking. Muscular physique. Has lots of mates. What he lacks in academic skills, he makes up for in practical ability. Kind-hearted nature. Deeply in love with Jenny.
GAVIN JONES  (Choir Member) About fifty-nine. Since the death of his wife, he has not worried about personal appearance. He has also turned to drink. Does not like Edith. Thinks the world of his son.
CARRIE RICHENS (Choir Member)  About twenty-nine. Very attractive, intelligent and well spoken. Has a kind, affectionate nature. She has an outstanding voice. Lives alone after the break up of a long-term relationship. Money is tight.
Sample Script
Production Costs
12.5%