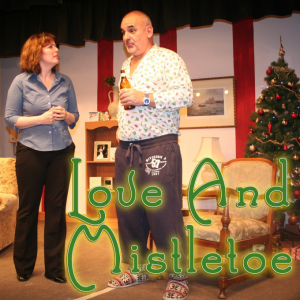 On Christmas Eve, Sue and Tom Millard have invited Sue's dad, Brian, round to spend the happy festive season with them. However,all is not as idyllic as it might at first appear.
After twenty-five years of marriage the couple are going through a bad patch. Unbeknown to Brian, who is a widower, Sue has invited three ladies round with the intention of finding him a partner.
To add to the mayhem, one of Sue's school friends arrives asking if she can stay for a couple of days after the breakdown of her marriage. The twists and turns, the intrigues and misunderstandings all add up to a hilarious evening's entertainment.
"The script was cleverly written, so that the dialogue was specific to each character, flowing naturally and with perfect pace. I have seen a few of Raymond Hopkins' plays and this one of his funniest. Many congratulations to all concerned."
– Stirling Players – Australia. Review by Gordon The Optom.

Duration: 90 minutes.



Authors
Related Shows
Cast
IN ORDER OF APPEARANCE
M2 F6
SUE MILLARD  About forty-six. Been married to Tom for twenty-five years. Fairly plain in appearance. Her diction is perfect. Well-groomed and immaculately dressed. A control freak. Treats Tom with contempt. Runs her own catering business. Has become a materialistic snob. A workaholic.
tom millard  (Husband of Sue) About forty-eight. Slightly overweight. A bit scruffy. Very likeable person. Lets the world go by. Has been henpecked by Sue over the past few years. Lacks love and affection from Sue. He feels that his marriage is falling apart. Not academically competent.
BRIAN DRAPER  (Father of Sue) About sixty-seven. Very good looking. Smart in appearance. Well spoken. Kind and thoughtful. Lives alone since the death of his wife three years ago. Lives for today.
FELICIA MILLARD (Only child of Sue and Tom) About twenty-three. Fairly plain in appearance - makes the best of herself. Lives with her boyfriend. Has been dominated by her mum, but now does her own thing. Academically very bright.
mavis louch (Friend of Sue) About sixty-two. Very good looking for her age. Slim and well turned out. She is quirky, flamboyant and has a very high sex drive. Lives alone since the death of her husband a year ago. Been desperately searching for the right man ever since. A free spirit with a zest for life. She acts twenty years younger than her age.
MABEL TAYLOR  (Friend of Sue) About sixty-six. Slightly overweight. Elegant and smart in appearance. Financially well off. Widow. Was married to the Chief Constable, who she despised. Now looking for some fun in her life.
MARTHA WOODWARD (Friend of Sue) About seventy-two. Very wealthy. Smart in appearance. Spinster. Lesbian. Is always on the lookout for a partner. Is a keen ornithologist.
JULIE WILKINS (School friend of Sue) About forty-nine. Slim and very attractive. Very smart in appearance. Well educated. Has recently separated from her husband. No children. She has become an emotional wreck, who is looking for love and affection. A very tactile person.
Sample Script
Production Costs
12.5%