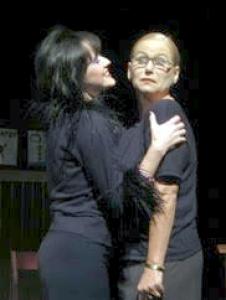 The village drama group has lost all their men. The future looks bleak until a bright, young director, Francesca Delmarco, agrees to help them out.
She is professionally trained and she has a plan which will give the group a new lease of life. She persuades them to enter the 'Dame Agnes Wragg Festival of One Act Plays for an All Female Cast' with a play she has written herself.
Francesca's play is controversial; it concerns a lesbian couple who want to have a baby. When the word gets out, the vicar's wife, Agatha Frost, attempts to ban the production. However, The Players have their own way of dealing with misguided authority.
"Lively, irreverent and fast moving ... it works!" George Owen Drama Association of Wales.
Authors
Related Shows
Plot / Synopsis
Cast
(9f)
Marge - officious, domineering, retired civil servant
Betty - quick witted, retired matron
Faye - aspiring actress who has missed the boat, an aesthete
Francesca - young director, enthusiastic and ambitious, angry
Julie - college girl with a fresh innocence
Babs - the general dogsbody
Agatha Frost - the Vicar's wife, Chair of the Community Council
Drama Competition judge
Jenny - a prize-winner (non speaking role)
Sample Script
Production Costs
On application.