3 years ago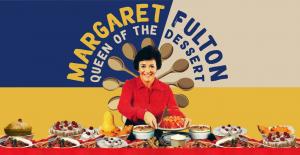 This joyous musical is being staged at Bondi Beach until October 27.
Book at www.bonditheatrecompany.com.au
Audiences and critics are raving.
"Delightful." Gaz Simpson Eastside Radio.

"Fun & often poignant show." Meredith O'Reilly Performer/Producer.

"This musical brims with love and energy and is almost like chicken soup for the soul.....a fun night out and a love letter to Australian ingenuity.....every bit as tasty and kitsch as Fulton and her delectable, sweet treats." AU Review.

"Margaret Fulton "livened up the nation and taught them how to cook with a little inspiration and the Margaret Fulton book". Words of the enjoyable lively musical, Margaret Fulton Queen of the Dessert, ring true to generations of Australian and English housewives." Sydney Arts Guide Review.
Order your perusal here.