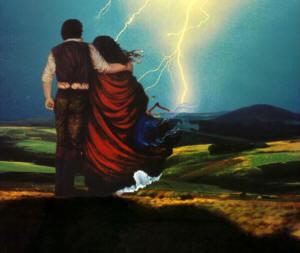 This has the drama, the love story and magnificent arias
The haunting image of Heathcliffe searching the moors for his beloved Cathy us one of the most enduringly passionate scenes in English literature.
Taylor's adaptation has been recognised by the Bronte Society as marking the first time that the true spirit of this masterpiece 'has been captured in a musical.'
"This is what stage music should be - passionate, powerful, melodic . . . If you buy only one album this year, make it this one - Mike Gibb, Masquerade Magazine.
"The whole thing is tailor-made for the West End stage, where it is sure to go down a storm." Huddersfield Daily Examiner.
"Every number, whether vocal or instrumental, packs the kind of emotional punch that musical performers and audiences cry out for." Sarah Hopkins, Beneath the Mask" Summer 1994 issue.
"Something to shiver about!" -House & Garden (British edition), March 1992.
Video
Authors
Related Shows
Plot / Synopsis
Wuthering Heights
Introduction by The Brontë Society
"Bernard J. Taylor's work marks the first time that the true spirit and drama of Emily Brontë's masterpiece has been captured in a musical."
The Brontë sisters need no introduction: their lives and works are known not only to the English-speaking nations but to the world as a whole. Each year, over 200,000 visitors flock to Haworth, an upland village in West Yorkshire, England, to see for themselves the Brontës' Parsonage home, lovingly cared for today by the Brontë Society. Although there have been many changes to the Yorkshire landscape familiar to the three sisters, much of the moorland remains the wild beautiful place they knew and loved, especially Emily to whom the lonely moors were a constant inspiration.
Emily's almost mystical affinity with nature shines through her poetry and is very evident in her one and only novel, Wuthering Heights, one of the world's acknowledged literary masterpieces. First published in 1847, Wuthering Heights has appeared in countless English editions, besides being translated into at least twenty-six languages, including Chinese, Icelandic, Japanese, Korean, Russian, Singhalese and Turkish. In Japan, for example, Emily Brontë is revered, and her novel, despite many passages in Yorkshire dialect, is widely read both in translation and in the original.
Wuthering Heights is an intensely dramatic work, charged with emotion; it is not surprising that many dramatists, choreographers, lyricists and composers have been drawn to recreate it for stage and screen. There have been seven major films between 1920 and 1991 and in addition there has been a ballet (1982), and opera (1967) and numerous adaptations and plays, including several for television — and not forgetting Kate Bush's song "Wuthering Heights" which topped the charts! Bernard J. Taylor's work marks the first time that the true spirit and drama of Emily Brontë's masterpiece has been captured in a musical.
Was there ever a real Wuthering Heights? Many attempts have been made to identify particular places mentioned in the novel, but no one can ever be sure. Undoubtedly, Emily drew inspiration from many sources -- no one locality can wholly or perfectly mirror the world she portrayed, and in any case does it matter, since every devotee of Wuthering Heights has a personal vision generated by Emily Brontë's genius.
Mark Seaward
Editor, Brontë Society Transactions
Enquiries concerning The Brontë Society should be addressed to:
The Brontë Parsonage Museum
Haworth, Keighley
West Yorkshire BD22 8DR
ENGLAND
Cast
Primary Characters
Cathy
Heathcliff
Nellie
Hindley
Edgar Linton
Isabella Linton
Secondary Characters
Earnshaw
Young Heathcliff
Young Cathy
Young Hindley
Chorus
1st & 2nd Women, Docker
Woman, Male Mourners 1 & 2
Butler, Maid, Menservants 1 & 2
Manservant
1st & 2nd Women, 1st & 2nd Men
Crew Members
Dancers
Wedding Guests 1, 2, 3, 4, 5
Gamblers 1, 2, 3, 4
Funeral: Boy, Male Mourners 1 & 2
Liverpool crowd, Earnshaw employees, farm people, farmhands, local villagers, Linton's servants and estate workers, doctors & nurses, etc.
Sample Music
Instrumentation / Rentals
12 Piece Orchestra.
Production Costs
14% of Box Office.