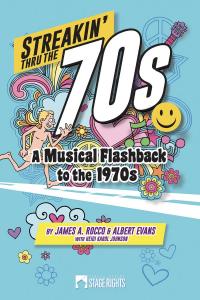 An outrageous, mind-blowing dash through the "Me Decade," complete with (shh!) a real life streaker! Featuring over 40 hit songs, Streakin' Through the 70s is filled with enough music and comedy sketches to make your bell bottoms burst.
"The most fun-filled show to hit the stage since Hairspray." –The New York Resident
"It's like stumbling onto a jukebox full of your favorite 45s. It leaves no pet rock unturned!" –The New York Daily News
"Scores plenty of laughs. This show is for you." –The Associated Press
"Weaves compelling dramatic segments in with the kitschy comedy." –Backstage East
"Dinner theater audiences usually don't bestow standing ovations. This performance got one." –The El Paso Times
Video
Authors
Related Shows
Plot / Synopsis
Act I
The excitement begins at Streakin', a recovery "rap" group of modern-day professionals who believe denim is a far-out fabric to choose as business attire. Six people (and of course, the audience!) have come together to indulge in their addiction to all things 1970s. The group is here to rediscover and bring back to life the highs and lows of a much-maligned decade.
They introduce themselves with a wicked round robin of song. Tyrone clings to a Love Machine persona ("You Sexy Thing"). Chrissie is a spaced-out love child ("Have You Never Been Mellow"). Tripp deems himself a lovable stoner ("Smokin' in the Boys' Room"), Gloria is a proud feminist ("I Am Woman"), Donny is a super-friendly square ("Everything Is Beautiful"), and Angela is the foxy lady ("Lady Marmalade").
As the excitement continues, they each try on different identities in a variety of mass-media and real-life situations. First, they find themselves in a TV game show Scream That Theme. Members of the audience shout out television theme songs at the top of their lungs to win "glamorous and exciting prizes." At the peak of the fun, everything is thrown into chaos by an unexpected guest, a surprise male "streaker"! Chrissie, looking remarkably like Karen Carpenter, calms everyone down with a dreamy rendition of "Rainy Days and Mondays."
It's now time for a visit with television's newest singing family The Grady Group, the happy people who live at 27 Bubblegum Lane. In this episode, the Gradys learn valuable life lessons and the recipe for Peggy's famous Irish margarita, all while singing "Brand New Key," "Joy to the World," "You Light Up My Life," and "Love Will Keep Us Together." A telegram for the eldest son arrives from the President of the United States, and a single word, "Greetings," changes everything.
The mood gets "real" as the social, political, and spiritual crises of the '70s spill on to the stage ("War Cries," "Who'll Stop the Rain," and "Peace Train").
Act II
An ominous, maddening thump-thump-thump makes way for the Disco Era. It's Scarie's Saturday Night Towering Disco Inferno— a mini-disco disaster opera starring Flatbush Disco King, Tony Marino, Carrie's cousin Scarie White, and the one and only Village Person ("I Love the Night Life," "Treat Her Like a Lady," "In the Village," and "Disco Inferno"). The Village Person makes a move on Tony, sending Scarie into a literal tailspin. An entire bowl of red punch accidentally gets spilled all over Scarie's beautiful white prom dress, which brings on a psychic fit of terror. After Scarie uses her telekinetic powers to lay waste to everyone who has ever hurt her, a ray of hope is introduced with "The Morning After."
We shift to the countryside, a land of gentle guitar pickers ("Country Roads") and blissed-out hippies ("Air That I Breathe"), all in search of a natural high. On the road, we meet CB-addicted truckers ("Convoy") who search the radio for their favorite tunes ("Muskrat Love," "Bertha Butt Boogie," and "Dueling Banjos"). The shocking news of the day interrupts this pop song potpourri. A montage of alarming headlines brings the cast to a full-scale mental breakdown as psychedelic visions invade their minds ("MacArthur Park").
The cast returns to the opening "rap" scene. They share what (if anything) they've learned from their adventure. In the end, they each agree on one thing— "I Will Survive
Cast
Tripp (Man 1) – A dazed and confused adult. Plays Tim (the pop star son in 27 Bubblegum Lane, a '70s sitcom), Jo Jo (the "winner of last week's hustle contest"), and a James Taylor-type. Tripp is also the "streaker" (see note below). High rock tenor.
Tyrone (Man 2) – A Lou Rawls-type who came to "party." Plays Dr. Grady (the father in 27 Bubblegum Lane, a '70s sitcom), the Village Person, Pops (a stagehand), and a jazz fusion jammer. Must sing R&B as well as pop.

Donny (Man 3) – An "Up With People"-type singer (Donny Osmond) with a toothy smile. Plays Carver (the myopic and brainy son in 27 Bubblegum Lane, a '70s sitcom), Tap Kneejerk (a game show host), Tony Marino (a Saturday Night Disco King), a John Denver-type, and an Andy Warhol-type. Great pop singer and great comedian.
Chrissie (Woman 1) – A blonde (Suzanne Somers) '70s bombshell-type. Plays Melanie (the sex-crazed girl next door in 27 Bubblegum Lane, a '70s sitcom), a hippie chick modern dancer, Leesha ("last week's winner of the hustle contest"), a Candy Darling-type, a Karen Carpenter-type, and a Toni Tenille-type. Must be an excellent singer and dancer.
Gloria (Woman 2) – A tough women's (Gloria Steinem) libber. Plays Peggy (the house keeper in 27 Bubblegum Lane, a '70s sitcom), Sheryl Meryl (a whacked-out Vanna White-type in Scream That Theme), a female trucker, and Scarrie White (Carrie's cousin). Must be an excellent comedian and singer.
Angela (Woman 3) – A former disco diva, a Tina Turner-type. Plays Pookie (the youngest pigtailed daughter in 27 Bubblegum Lane, a '70s sitcom), Sonna (a Donna Summers-type), and an Angela Davis-type. Great dancer and fierce R&B.
Casting Notes:
All company members must be triple threats. Strong singers handling music from the Carpenters to Alice Cooper, good dancers who have a solid comic sense.
Also, a note about the Streaker: in the Off-Broadway production, the "streaker" was the male understudy. If he was on, someone else was brought in to streak. The show however was written structurally for the Tripp character to be able to get off stage and be the "streaker." This will depend on your casting.
Instrumentation / Rentals
The Authorized Materials/Rehearsal Package for Streakin' Thru the 70s! includes: Production Scripts Vocal Scores Orchestrations: Piano/Conductor Score Keyboard 2/Synthesizer Electric Guitar Bass Drum Official Logo Pack Now Included! To help you promote your show, Stage Rights now includes a logo pack with your license. The logo pack includes high resolution versions (both color and black and white) of our show logo. The logo is the portion of the artwork with the title of the show. The surrounding artwork is also available for an additional fee. Optional Materials: Performance Tracks Sound FX Tracks Stage Manager's Script – Printed on standard 8.5" x 11" 3-hole-punched paper, with the same page numbers and text as the Production Scripts, but with more space on the page for notes and cues.
Production Costs
16% of Box Office - plus rental of material.