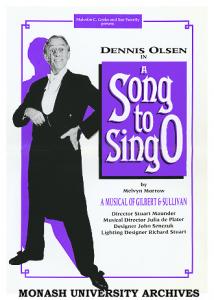 " A Blissful marriage of witty dialogue with some of the most enduringly popular music and lyrics ever written" Melbourne Herald Sun.
A Song to Sing O is a musical play about the original Gilbert and Sullivan patter man George Grossmith first performed by Anthony Warlow and has since toured successfully across Australia starring Dennis Olsen and the U.K .
It can be staged with one man - or now with full chorus.
A Song to Sing O takes place in George Grossmith's dressing room at the Savoy Theatre London , in between the matinee and evening performances on Aug 17 1889, on the day of his last appearance with Mr D'Oyly Carte's company. Here's what Sydney's Daily Telegraph wrote about one of the sell out performances.
"Melvyn Morrow has written a clever biographical piece with 19 G and S gems including some delightful and engaging numbers from Grossmith himself. It is the afternoon and evening of the subjects, departure from D'Oyly Carte a solo career awaits , and our Savoyard is being interviewed by the invisible Mr Peabody an American journalist who can offer valuable publicity to Grossmith's imminent tour of the US. Grossmith trips through his career, sprinkling such delights such as Ruler of the Queen's Navee Iolanthe's Nightmare Song, Titwillow and the Major General Song from Pirates. In all it is delightful"
" As a source of innocent merriment, this is one to put on your little list" Sydney Morning Herald 1993
Video from a production in Melbourne in 2008, Gilbert and Sullivan Opera Victoria, featuring Ron Pidcock.
Video
Authors
Photos

Cast
A Song To Sing O was originally a solo show and has been performed by – among many stars - John Reed, Anthony Warlow and Dennis Olsen.
It remains a solo show for any artist keen to play the role, and there is a separate script for that production.
The piece also works for a large community theatre company requiring roles for all its members.
It can be performed by a small company of seven.
George Grossmith and six devastatingly talented proteans (three males, three females) who sing, act, mime, dance, become human scenery, do
magic tricks and acrobatics and have any number of other dazzling strings to their bows.
How these six proteans become the ensemble depends on the director's inventiveness.
Obviously, the six performers play all the roles in the cast list, and the stylish character changes so instantly and brilliantly demonstrated in the stage hit,
The Thirty Nine Steps, are a way to go.
In the text's stage directions, I've made suggestions as to how the company might be incorporated into each song, but these are suggestions only.
There ought to be no limitation the director's daring and genius. Who dares wins.
George Grossmith
Call Boy
Richard Temple, Savoy baritone
Ernie, a dresser
William Gilbert
Arthur Sullivan
Scottish Laird
Sir Henry Irving
Newspaper Critic 1
Newspaper Critic 2
Weedon Grossmith
Farmerson, an ironmonger
Carrie Pooter (non speaking)
Herbert Snape, nerdish fan
Durward Lely, Savoy tenor
Jessie Bond, Savoy soubrette
Maud Pembroke, spinster fan
Leonora Braham, Savoy soprano
Rosina Brandram, Savoy contralto
W.H. Denny, Savoy bass

Production Costs
14% of Box Office.