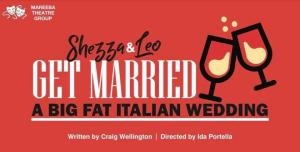 Not just an outrageous comedy. This is an event, as an Italian Grandmother Madonna Paola Giuseppina Maria Donatella comes back to haunt her grandson Leo at the worst possible time on his wedding day.
From the 1980's style bucks and hens nights, through the wedding and reception the audience are guests at this event of the decade.
Authors
Related Shows
Photos
Plot / Synopsis
The setting is a Bridal Table with a dance floor around it. The audience sits at tables around the room as they would a wedding. They are the wedding guests. The production requires service of a three-course meal. A bar should be operated, but not with table service as it is too distracting. Speeches and re-enactments take place on the dance floor in front of and around the central table. Numerous lighting states are required but, if performing in a space where this is problematic, music alone can be used to indicate scenes changes.
Cast
The optimum presentation has the Groomsmen and Bridesmaids double as other characters. This is done by simply adding a hat, scarf, glasses, or using a single additional prop. The casting combinations are:
TRACY / MARGARET
TANYA / AUNTY JANET
TATIANA / SOFIA
LORENZO / PETE
COLIN / MARIO / CARLOS
The following cannot double as other characters due to the structure of the narrative:
SHEZZA
LEO
NONNA
ANDREW (does double briefly as UNCLE GIUSEPPE – a cameo without dialogue)
CAST OF CHARACTERS
Cheryl "SHEZZA" Smith
The Groom, LEO Donated
Father of the Groom, MARIO Donatella
Mother of the Groom, SOFIA Donatella
Father of the Bride, PETE Smith (divorced)
Mother of the Bride, MARGARET Smith (divorced)
Best Man / Master of Ceremonies, ANDREW Tyler
Matron of Honour, TRACY James
Bridesmaid, TANYA Thomas
Bridesmaid, TATIANA Cazaly
Groomsman, LORENZO Donatella (LEO's Brother)
Groomsman, COLIN Smith (SHEZZA's Brother)
LEO's deceased NONNA, Madonna Paola Giuseppina Maria Donatella
Aunty of the Bride, JANET Smith
Cousin CARLOS (real name TREVOR)
Uncle GIUSEPPE (silent role)
MALE STRIPPER
BARRY (the actual audio/lighting technician, referred to and indicated, non-speaking)
Sample Script
Production Costs
12.5%