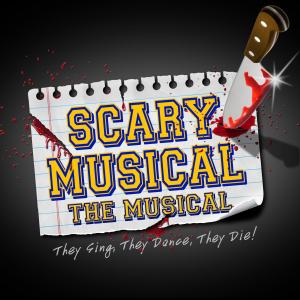 They sing! They dance! They die! On the night before the opening of Vera Miles High School Drama Department's production of Scary Musical, a brutal double murder takes place. We soon learn that a mental patient has escaped and all musical hell is about to break loose. Combining a slasher movie plot with a rock 'n' roll score, this laugh-out loud new musical melee has all of your favorite scary movie clichés with an added twist—these teenage victims sing and dance all the way to the grave and beyond. Audience members get to vote to determine the ending each performance.
"A kick ass book and score …pee in your pants funny" –Michael Sterling, State of the Arts Talk Radio
"Boffo Theatrical humor…deliriously funny" –Broadway World
"Why isn't this show on Broadway?" –Hollywood Gothique
Listen to the music at this link below but return to the DSP website to order perusal and make bookings.
Video
Authors
Related Shows
Photos
Plot / Synopsis
On the night before the opening of the Vera Miles High School Drama Dept's production of Scary Musical a gruesome double murder takes place. The school's leading lady Drew Campbell and her understudy, Eve are slashed to death. A bubbly new girl named Jamie Lee Leigh arrives in town bearing a striking resemblance to the murdered Drew and thus begins the competition for her replacement. We soon learn that a Crazy Mental Patient has escaped from the Hidden Secrets Psychiatric Hospital and all "musical" HELL is about to break loose as we follow Jamie and her new friends Norman, Carrie, Jason and Freddy along with nosy reporter Leeza Courtney Fox and the escaped mental on a horrifically hilarious journey.
Cast
Drew Michelle Campbell: 17, Sexy, entitled, with lots of attitude. All she cares about is playing the lead in the school musical.
Jamie Lee Leigh: 17, Cheery, neurotic, and a little bulimic. She has two goals for the semester - to stay a virgin and lose five pounds.
Jason Cravin: 17, Sexy, dangerous and dumb. Captain of the Hockey Team. He is desperate to get laid...with anyone.
Norman Hates: 17, Shy quiet and crazy. He is kept on a very tight leash by his domineering dead mother.
Freddy Louissier: 17, A hopeless romantic trying to write that one great poem for Carrie. Unfortunately she hates his guts.
Carrie Beige: 17, Daughter of a religious fanatic. An outcast, she is deeply in love with Jamie. Carrie has a lot of issues to work out.
Leeza Courtney Fox: 30- 40 Host of "Horrible Story." A cross between Nancy Grace, Mary Hart and Charles Busch.
Mr. Macguffin: 30- 40 Flamboyant Drama Teacher / Wrestling Coach.
Teena Louise: 25 -40, Leeza's Cam girl. Belligerent and terrified.
Casting Note: The same actress plays Drew and Jamie.
The actress playing Leeza is the V.O for Jamie's mother, Norman's mother and Carrie's mother.
The actor playing Mr. Macguffin plays the Radio Announcer and is the V.O for Freddy's father.
Setting: The quiet coastal town of Hidden Secrets USA
Instrumentation / Rentals
Production Scripts, Piano Score Orchestrations: Keyboard, Guitar, Bass, Drums
Production Costs
14% of Box office.