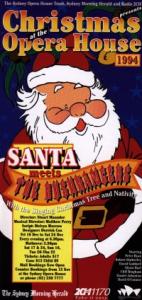 Melvyn Morrow has written six pantomimes for the series Christmas at the Sydney Opera House. His favourite is Santa meets the Bushrangers, which was revived for the third time in a professional season at the North Sydney Independent Theatre .
The characters are Mother Kelly, Molly Moonlight, Charlie Thunderbolt, Danny Boy ( his brother ) Ned Kelly, Santa Ghost of Amnesia and various miners.
There are unlimited chorus possibilities - with a tradition that Christmas carols are included.
The scene opens with Mother Kelly opening her Devonshire tea shop, (hiding the no frills label on the jam ) and welcomes some scruffy looking customers.
Mother Kelly: Pull up a chair for Mr Thunderbolt...haven't I heard that name before.
Thunderbolt: Banking. My Father is Captain Thunderbolt, the famous bank robber. I mean bush ranger. I mean range rover.
Danny Boy: He means bush rover. I mean range robber.
Mother Kelly: You're the bright one?
Both Boys : Yes.
Mother Kelly: What a pair of Galahs. You mean bank manager.
Thunderbolt: That sort of thing. Yes he manages other people's money. When he manages to get it.
Mother Kelly: Well isn't that a coincidence . My darling son Edward Kelly, works in the money market in Sydney. Doing very well. Always sends his mother a cheque every month. Now what can I get you boys.
Thunderbolt: We'd like a devonshire tea.
Danny Boy: Yes I'd like some devon.
Mother Kelly: You're the bright one?
Both Boys : Yes.
Authors
Related Shows