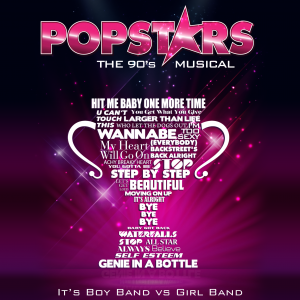 It's boyband vs girlband in this hilarious brand new musical from the team that brought you the global hit Back to the 80's.
Packed with pop smash hits from the hyper-coloured 1990's by artists such as THE SPICE GIRLS, BACKSTREET BOYS, N*SYNC, BRITNEY SPEARS, CHRISTINA AGUILERA, MC HAMMER and many more.
It's set in a school in the 1990's where Mark is head over heels in love with his girlfriend, Queen Bee, Shannon Van de Witt.
When Shannon learns that pop-band impresario Simon Austin is the surprise judge at the State Talent Show she dumps him for her chance at showbiz stardom.
Mark rapidly goes from High School hero to High School zero. His garage band buddies rally around him and soon a plan for revenge is hatched to change their grunge band to a boy-band and snatch the Talent Show title from Shannon's Candy Girls.
There's just one small problem... the boys can't dance. Mark enlists the help of the ultra talented, new girl, Ella to help with their boy band make over and sparks soon fly.
Can Mark get the girl, get the Grand Prize and get even with the scheming Shannon closing in? It's anyone's guess as the countdown to the Grand Finale begins. It's sure to be one to remember.
Video
Authors
Related Shows
Photos
Plot / Synopsis
Queen Bee, Shannon Van De Witt, sits with her friends Steffi and Tina watching an MTV biography special about pop-band impresario Simon Austin.
(LARGER THAN LIFE/WANNABE/STEP BY STEP)
. Shannon has heard that as part of his community service Simon Austin will be a surprise judge at the annual State talent show. Shannon rallies the girls into line as an exciting girl band ready to claim the grand prize
(WATERFALLS).
The girls are fantastic dancers but are stone cold tone deaf. They decide to hold auditions for a lead singer and make pact to let nothing stand in their way until they win... including their own boyfriends.
The school yard is abuzz with early morning activity
(YOU GOT THE MUSIC IN YOU)
. King of the school, Mark, can't figure out why no one will talk to him at assembly. Eventually Shane, Vinnie and Patrick Van De Witt, Shannon's twin brother and Mark's best friend, find Mark and reveal that Shannon has broken up with him for her chance at stardom. Mark stops the assembly in its tracks and sings of his feelings for Shannon
(ALWAYS)
. Shannon tells Mark that it's over. He runs off, his heart broken.
Mark and the boys are rehearsing their garage band
(SELF ESTEEM/YOU OUTTA KNOW).
Mark is a wreck about suddenly finding himself discarded and public enemy number one. He hatches a plan to transform their garage band into a boy band and snatch the talent show title from Shannon's grasp earning themselves fame and girls in the process
(MOVING ON UP).
The one snag is that they cannot dance. Shane leads the boys to Billy Ray's Diner
(ACHY BREAKY HEART)
to see hostesses, Carrie and new girl Ella, perform whilst they serve diner patrons
(CAN'T FIGHT THE MOONLIGHT)
. Mark is immediately taken with Ella and asks her if she'll help the boys with their moves. He swears the other boys to secrecy about Simon Austin for fear of Ella winning the trophy herself
(ACHY BREAKY HEART REPRISE)
.
The girl band auditions are underway
(MY HEART WILL GO ON/BABY GOT BACK)
. School geek, Charlie, enters late and belts out a number
(HERO)
securing her place as the lead vocalist in the "Candy Girls". The boys, meanwhile, are working with their new drill sergeant, Ella, on their qualifying routine
(I'M TOO SEXY)
. During a break in proceedings Ella has a chance to talk to Mark about her own dreams of making it big and the importance of being a better person (YOU GOTTA BE).
The boys and girls prepare, along with the rest of the town, for Heat One of
The Next Gen Talent Show
(ALL STAR/IT'S ALRIGHT)
. Shannon asks Mark to not make a fool of himself in front of everyone and not compete. Mark tells her that he's doing it anyway
(BYE BYE BYE)
and the boys win the first Heat. Mark and the boys celebrate their victory
(WHO LET THE DOGS OUT/LET'S GET LOUD)
. This culminates in Ella telling Mark that she likes him. They kiss.
Having seen how good the boys are Shannon puts the girls through their paces
(STOP)
. Unhappy with Charlie's abilities Shannon fires her
(MOVING ON UP REPRISE)
saying she has an even better plan for victory. Mark asks the boys for advice about how to tell Ella that he's been concealing Simon Austin's arrival from her. Vinnie tells him not to worry and shares with him an old trick for success with the ladies
(END OF THE ROAD)
.
Shannon turns up at Ella's door asking her to join the "Candy Girls". Ella declines and Shannon asks her why she doesn't want to be seen performing by Simon Austin? Ella is crushed that Mark hasn't told her about a chance to be a star and joins with the girls to win Heat Two
(BELIEVE)
. Mark tries to apologise to Ella (HIT ME BABY ONE MORE TIME). She asks him to leave her alone and never talk to her again.
Steffi and Tina find Charlie alone in the library and tell her that they miss her at rehearsals while Mark and Ella are caught in an emotional no man's land (IRIS). The boys convince the shattered Mark to still take part in the Grand Finale of the talent show where Simon Austin finally makes his grand entrance
(YOU CAN'T TOUCH THIS)
. Once there Mark overhears Shannon's plan to sabotage the competition by replacing Ella with Charlie in the "Candy Girls". Mark rescues Ella by offering for her to take his place in the boy band
(YOU GOTTA BE REPRISE)
. The group decides that Mark should be up there too and they write a new song to perform with moments to spare. The "Candy Girls" take to the stage
(GENIE IN A BOTTLE)
followed by Mark, Ella and the rest of their "Y2K" pop group
(EVERYBODY-BACKSTREET'S BACK ALRIGHT).
Simon Austin announces that the winner of the talent show and a recording contract with his own label is... neither the boy band nor the girl band... but the highly talented Amber Shue on violin. The boys are devastated but Mark and Ella reassure them that there is more to life than stardom. They'll always have each other (MMM BOP).
Cast
CHARACTER BREAKDOWN
Shannon
The Alpha Female of a small group of popular girls. Generally, she is seen as a good girl role model to those around her. However, in her small group of friends, she can be quick to turn – and tends to be a dictator.
F3 to F#5
Patrick
Shannon's twin brother. He does not approve of Shannon's behaviour, and tries to point out to her the error of her ways. However, in many ways, he is also intimidated by her.
E3 to B Flat4
Mark
The hero of the show. He is a sensitive musician.
G2 to A 4.
Vinnie
Vinnie is a jokester and exceptionally kind hearted.
B2 to G4
Steffi
One of Shannon's closest friends. She is highly intelligent, but dumbs herself down to be socially accepted by those around her. She comes across as quite droll.
(Low) E3
Shane
A mute, stoner, type. He wears sunglasses, a beanie and mainly communicates through gesture.
D3 to C4
Tina
One of Shannon's closest friends. She is one step behind the eight ball and eager to please – particularly when Shannon is involved.
(Low)
F3
Simon Austin
High profile music producer / agent. He has just come out of rehab and is basically being forced to attend as a guest judge for the Talent Show as part of his community service.
A2 to B3.
The Principal
Totally in control of the school, but almost defers to the will of Shannon.
Charlie
A bookish, intelligent social outcast who has lungs of steel. She is the least popular girl at school – but her vocal talent is undeniable.
F3 to E5.
Terri
Shannon and Patrick's mother. She is so numb from years of bickering between Shannon and Patrick that she no longer tries to stop it – she just searches for the quickest solution to bring it to an end.
Ella
Ella has an exceptionally strong sense of self. She is not motivated by the pack, and is happy to pursue her dreams without worrying about social acceptance. She is an "emotional black belt" – and acts as the mentor to Mark on his journey through the show.
DJ Prince
Facilitates the Talent Show and is a stereotypical host.
Mega Mix extra range
Chef Joey (High) E Flat 4

Carrie (Low) G3

Tina (High) C5

Steffi (High) C5

Ensemble.
Sample Script
Instrumentation / Rentals
Keyboard 1/Conductor, Keyboard 2, Trumpet/Flugel/Tambourine, Tenor Sax/Alt Sax, Flute/ Shaker, Guitar 1, Guitar 2, Bass, Drums, Percussion.
Production Costs
16% of Box Office. Advance $250 + GST if applicable per performance. $550 + GST if applicable for the script music pack. $100 + GST if applicable for the CD Backing Track.