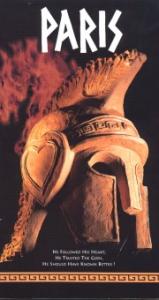 This epic musical first recorded by the London Symphony Orchestra has delighted audiences in many countries.
"Irresistible - engaging and exciting the audience throughout - and leaving heaving chests and racing hearts as it draws to its tragic conclusion." Aussie Theatre.com 2008.
" Right at the curtain rise the audience broke into spontaneous applause." Melb Age
"Every song is bold and powerful." Herald Sun.
Paris is about the the triumph of love and the fall of Troy. A story embedded in the most fantastic of Greek myths and legends.
With sweeping music, the original star crossed lovers and a few funny surprises this musical is a treat for performers and audiences.
Recently updated by Jon English and David Mackay - to include new songs and comedy.
*Written in collaboration with John Dallimore, John Coker, Greg Henson, Keith Kerwin, Tony Mitchell, Graham Matters and Roger Dallimore.
Orchestration by Kevin Hocking and Andrew Swan.
Listen to the album on Spotify.
Video
Authors
Related Shows
Photos
Plot / Synopsis
Essentially it is a love story, the original 'Star crossed lovers' are Paris and Helen.
ACT 1.
As a young shepherd the Trojan Prince Paris has a dream. Three Goddesses approach him offering him wisdom, wealth or beauty.
He chooses the Goddess of Love - Aphrodite.
Years later Paris is sent on a voyage of discovery by his father. It is a mission designed to forge a peace with powerful Greek neighbours.
But his boat is shipwrecked. When he is woken by the Queen of Sparta - Helen - he is convinced she is the Goddess Aphrodite.
They fall in love. While helping Paris escape - Helen - kills a guard and has no choice but to leave with the Prince.
Egged on by his brother Agamemnon, Menelaus the King of Sparta swears revenge.
Back in Troy the lovers get a luke warm reception Who the hell is she? Helen is permitted to stay but the Trojans are nervous. There's bound to be a war.
ACT 2
As feared a huge armada of Greeks prepares to invade.
Paris and Helen reaffirm their love amid the looming bloodshed.
Ten years of war follows.
The Greeks device a plan they'll construct a giant horse and put soldiers inside.
Two bumbling drunk soldiers are volunteered for this dangerous operation.
The Trojans think the horse is a gift from the Gods and move it inside. With this fatal mistake the war is lost.
As Menelaus enacts his revenge he realises that ' so many have died for the pride of a fool.'
Helen weeps for her slain lover. 'Sleep now my love, we'll never part.'
Cast
Trojans
PARIS...Youngest son of Priam - Prince of Troy.
PRIAM....King of Troy. Father of Paris, Hector and Cassandra.
HECUBA...Wife of Priam.
HECTOR...Second in line to the Trojan throne - Warrior and Master of the Trojan Defences.
CASSANDRA...Princess of Troy, and Prophetess - doomed to see all her prophetic warnings ignored.
ANEAS...Trojan Noble and Sea Captain, Second in Command to Hector.
LAOCOEN....High Priest of Troy - the only one who truly listens to Cassandra.
HELMSMAN.
OPENING NARRATOR.

THE GREEKS
HELEN...Wife of Menalaus - Queen of Sparta.
MENELAUS - King of Sparta - Husband of Helen.
ACHILLES..Prince of the MYRMIDONS in THESSALY - strongest warrior in the known world, and almost invulnerable due to a blessing from the Gods. But like most divine Blessings has a fatal flaw.
PATROCLUS..confident and only true friend of Achilles.
AGAMEMNON...Elder brother of Menelaus and King of MYCENAE. Commander in Chief of the Greek forces at Troy.
ULYSSES..King of ITHACA - Intelligent and Brave. Also Blessed and Cursed.
HANDMAIDEN...Helen's personal slave
FISHERMAN...Old Friend and confidant to Helen.
SINON..Inept press ganged volunteer, Greek Soldier.
THERESITES and TALTHYBIUS...two reluctant, bumbling and inebriated Greek Soldiers.
AJAX...Greek Businessman.
DIAMEDE...Greek Businessman
Minor Roles/Chorus: Citizens of Troy, Greeks, Soldiers, Gods, Sailors, Warriors.
Sample Music
Instrumentation / Rentals
20 piece or 18 piece if keyboard replaces all strings except the cello. Full set : Bassoon, Clarinet 1 and 2, Double Bass, Drums, Electric Bass, Flute, Guitar, Horn 1 and 2, Oboe, Percussion, Synthesizer, Trombone 1 and 2, Trumpet 1 and 2, Violins 1 and 2. Rehearsal CD is available.
Production Costs
16% of Box Office Gross.