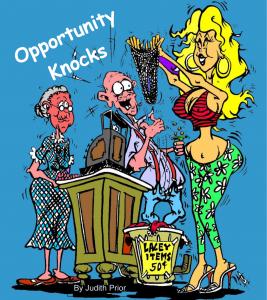 The play, a comedy in two acts, is set in a charity run opportunity shop.
Upstairs, over the shop, (Off stage) live two younger women, Madge and Carol. These ladies are exotic dancers at the Pink Pussy by night, and by day they run a very successful phone sex business, which the opp shop staff believe is simple tele marketing.
The dissimilar values and attitudes of the two very different lots of tenants, upstairs and downstairs, and the stream of weird and wonderful customers coming and going through the Opp Shop, create some very funny situations.
Mildura Theatre Co. "Opportunity Knocks" Thank you for the opportunity to stage another triumphant production. Almost a complete sell out for the 5 performances. Thank you for a very clever, sharp and hilarious script."
Authors
Photos
Plot / Synopsis
When the local councilors decide to run a recycled fashion parade and talent quest as a promotion to advertise their recycling policies, the girls upstairs are enlisted to help the opp shop staff with their entry in the competition.

The competition entry from the Opp Shop is the finale of the play, and this may be as informal or as lavish as you like to make it. A simple fashion parade of recycled clothes, plus a trio by the three older ladies, a dance number by the two upstairs ladies, or the three guys doing something like the full Monty!

There are lots of walk on comedy roles, speaking parts and non speaking, as customers enter and exit the shop. If you are short of players, some of these roles may be doubled up. If you've never been to an Op Shop, you should make a field trip, you never know just what you might find, when....... Opportunity knocks!!

Suggested music.

ACT ONE

No. 1. ✮ ......... The Old Grey Mare......(Music only.) ........

No. 2. ..................The Marvellous Toy... (Wally )

No. 3. .......Secondhand Rose. (Solo for Rose.)

No. 4. ..... Knock Three Times (Carol and Madge.)

No. 5. ✮....... ............Everything's a Bargain Just for You.

ACT TWO

No. 6. ✮................The Old Grey Mare......(Music only.)

No. 7...............My Grandfathers Clock (Wally & Herb)

No. 8. .........Oh, Carol..... Or All Shook Up! (Marty.)

No. 9. ...............Bosom Buddies or Friendship or Dearie

No. 10. ✮..... The Opp Shop Blues.

No. 11. .... Finale...... Reprise of Opp Shop Blues

✮ The play may be performed with music 1, 5, 6 & 10. only.

More music may be added, or some of these suggestions may be changed or omitted, at the directors discretion.

N.B. This script is text only. Suggested music is an indication only of the type of song suitable. Extra music is of your own choosing and copyright permission should be sought.
Cast
6/8 Females 5/6 Males

The Op Shop Volunteers........

Daphne ………………………Volunteer, Bossy, in charge of the Op Shop

Hazel…………………..Volunteer, older, slightly deaf.

Rose………………….Volunteer, mutton done up as lamb. Flirt.

Wally……………………Volunteer, Pensioner. Cheerful.

Herb…………………….Volunteer. Has a bad back.

Marty…………………..Younger. Assistant, not very bright.

The Girls Upstairs...........

Carol…………………(Could be a Blonde.) Exotic Dancer

Madge……………………Exotic Dancer

The Customers. (May double up if necessary.)

Lady 1…………………….Smartly Dressed. Looks wealthy.

Man 1……………………..Scruffy. Perhaps, black singlet and thongs.

Whingeing Woman……....Middle Aged. Well Dressed.

Older Man………….Walks slowly, as if in great pain

Hippy 1……………….Male or female. Love beads, bare feet etc.

Hippy 2……………….Male or female. Love beads, bare feet etc

Detective or Policeman. ………………Male or Female.

Mayor…………….. (Must be male.) Male

Mayor's Wife. ……………..Female

Various other customers should enter and exit the shop during the play, either singularly or in pairs. Some of them buy and pay for purchases, and some simply browse through th racks of stock and eventually leave. The director should plan these entrances and exits throughout the rehearsals.
Sample Script
Production Costs
12.5% of Box Office Gross. Minimum of $110 per performance. Scripts for sale $17.50 each or $165 for licence to photocopy.