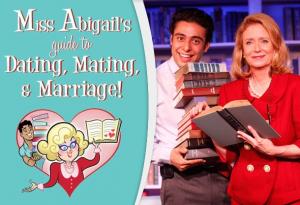 Let Miss Abigail take you back to a simpler time, before booty calls and speed-dating, back when the divorce rate wasn't 50% and when 'fidelity' was more than an investment firm!
It's Loveline meets Dr. Ruth as Miss Abigail shares her vast knowledge of every piece of relationship literature known to mankind. The audience participates in this hilarious variety show, and Miss Abigail's strapping young assistant Paco is there to provide for her every need.
This smash off-Broadway hit will keep you laughing all night long – that's the Miss Abigail guarantee!
"PURE FUN! You can't help but fall instantly in love with Miss Abigail's Guide!" –Entertainment Weekly
Authors
Related Shows
Photos
Plot / Synopsis
The show opens to the set of a warm, inviting living room. Welcome to Miss Abigail's relationship talk show. Everyone in the audience has a pink "ASK MISS ABIGAIL!" card that says, "Got a question about dating, mating or marriage? Need some relationship advice? Got a question that you're embarrassed to ask your doctor? Ask Miss Abigail instead!" Paco, Abigail's strapping assistant, readies the stage for her arrival. 
Miss Abigail enters to her musical theme and informs the audience that, "over the next hour and eighteen minutes, I'll teach you all my secret recipes for romance." Her knowledge spawns from all of the relationship and self help books she "devoured" from her Grandmother. Plus, she has walked the walk; for twenty-five years she had a perfect marriage, then her husband passed away.
Miss Abigail directs her first tid-bit of priceless advice to the audience: "Ask The Looking Glass." Remember it is important to look your best and maintain your personal hygiene! She hands out "Ask the Looking Glass" cards to each member of the audience and asks them to put it somewhere they can see it every day. She takes the audience through some of the common wardrobe malfunctions associated with loneliness, like plumbers bottom, for instance.
As Abigail explains, the most attractive aspect of any person is their confidence. It becomes clear at this point that Paco is very interested in Miss A as he assists her. He seems to have developed a bit of a crush in the time they have been working together.
In this contemporary age there are so many ways to meet someone! Once you meet someone it is important to know how to flirt. Miss A demonstrates some of her tried and true flirtation techniques like "this stool is free," and "Lick Lip," then she brings some audience members up onstage to try it out.
Next step: dating. Miss Abigail covers everything from who should ask, where to go, and even what to talk about. Then she goes through the ins and outs of the first kiss. Paco, ever enthralled, gets jealous when she asks an audience member to help her while he leaves for a moment.
A few audience members join Miss Abigail onstage to play "Love, Lust, or Stalking?" This is a game where she describes several scenarios and the contestants have to decide which of the three categories it is best represented by.
Up next: weddings and marriage. She gives several pointers on how to maintain a healthy, long-lasting marriage.
The final bit of relationship advice is, yes you guessed it: Sex. Paco shows a montage of his favorite clips from film history in order to give the audience some sexual education.
After a few more lessons in love, Paco is overwhelmed by his emotions. He confronts Miss Abigail and asks her to move on from her late husband. He makes her favorite kind of sandwich in his very unique way, and Abigail seems to be interested at last in the love that was right in front of her.
Cast
MISS ABIGAIL – The most sought-after relationship expert to the stars (think Dr. Ruth meets Emily Post).
PACO – Her sexy assistant
Production Costs
12.5% of Box Office.