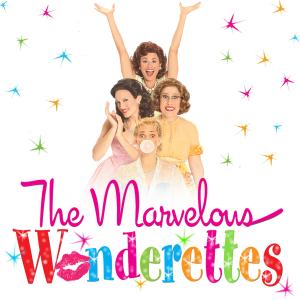 "One irresistible musical! An utter charm bomb!" - The New York Times.
This smash off-Broadway hit takes you to the 1958 Springfield High School prom where we meet Betty Jean, Cindy Lou, Missy, and Suzy, four girls with hopes and dreams as big as their crinoline skirts! As we learn about their lives and loves the girls serenade us with classic ' 50s hits including " Lollipop," " Stupid Cupid," and " Lipstick on Your Collar."
In act two, the Wonderettes reunite to take the stage and perform at their ten-year reunion. We learn about the highs and lows the girls have experienced in the past decade and are charmed to find that no matter what life throws their way, they will conquer it together. Featuring over 30 classic ' 50s and ' 60s hits.
The Marvelous Wonderettes will keep you smiling in this must-take musical trip down memory lane!
There are now three editions to choose from. One Act. Two Act or Glee Club with large cast.
Video
Authors
Photos
Plot / Synopsis
Act I
At the 1958 Springfield High School prom, the lights comeup on the evening' s special entertainment: The Marvelous Wonderettes (" Mr. Sandman" ). These four best friends (Betty Jean, Cindy Lou, Missy and Suzy) launch into the "Sugar & Spice Medley: Lollipop/Sugartime" and we learn that the Wonderettes are also the trophy-winning varsity song leaders for Springfield High—"Go Chipmunks!" While Betty Jean excitedly runs out front to put their new trophy in the school' s display case, her best friend, Cindy Lou, steals her solo (" Allegheny Moon" ) and cracks in their friendship begin to appear.
After Missy and Suzy break up the squabble, we hear the real reason the girls are performing tonight: they are the replacement act for tonight' s originally scheduled group, the Crooning Crab cakes. Billy Ray Patton, the lead Crab, got suspended from school for smoking behind the girls' locker room. They reveal the theme of tonight' s super senior prom (Marvelous Dreams Medley: " All I Have to Do Is Dream" /" Dream Lover" ) and with the help of Missy's special dream catcher, each girl gets to dedicate a song to her very own "dream lover." Suzy sings to her boyfriend, Richie, who is also running the lights (" Stupid Cupid" ). Betty Jean sings to her boyfriend Johnny (" Lipstick on Your Collar" ), discovering that Johnny and Cindy Lou have been making out behind her back, and Cindy Lou sings of her special talents in "Lucky Lips." After Suzy squelches another fight between Cindy Lou and Betty Jean—"L-O-V-E, that spells love...!"
Missy reveals her own "Secret Love," the girls' music teacher (Man of My Dreams Medley: " Mr. Lee" /" Born Too Late" /" Teacher' s Pet" ). The talent competition is next, followed by the vote for the 1958 Queen of Your Dreams—"That' s the Prom Queen!" The Wonderettes sing farewell (Goodnight & Goodbye Medley: " Sincerely" /" Goodnight Sweetheart, Goodnight" ), followed by the crowning of the 1958 Queen of Your Dreams and her spotlight song (" Hold Me, Thrill Me, Kiss Me" )
Act II
A decade later, at the Springfield High School Class of ' 58 10-Year Reunion, the Marvelous Wonderettes take the stage with "Heatwave." During the reunion, we learn about each girl and the different roads they' ve traveled since graduation. Missy has been dating the same man for the past five years—"Every Monday night, more pizza..."—and needs to know exactly where it' s headed (" It' s in His Kiss, Wedding Bell Blues" ). The girls try to help Missy stay strong and independent (" You Don' t Own Me" ) but she soon melts under the spell of a surprise on stage proposal (" With This Ring" ).
Betty Jean steps up and tells us about her love for Johnny (" I Only Want to Be With You" ) and how their recent marriage has gone awry (" That' s When the Tears Start" ). She rebuffs Cindy Lou' s attempt to restore their friendship with "It' s My Party." When Cindy Lou takes the spotlight, we learn she fled to Hollywood right after high school, only to return to Springfield years later to meet up with the lead singer of theCrooning Crabcakes (" Son of a Preacher Man" ). Billy Ray indeed changed her life in many ways (" Leader of the Pack" , " Maybe" ) and Cindy Lou' s journey brings about a heartfelt reconciliation with Betty Jean.
A very-pregnant Suzy must now tell her story, fraught with a philandering husband—Richie, once again running the lights—and raging hormones (" Maybe I Know" ). The girls buoy her up (" Needle in a Haystack" ) and with their unwavering support, Suzy finds much-needed strength and resolve with "Rescue Me" and "Respect." With the reunion drawing to a close, the Marvelous Wonderettes thank everyone for an amazing evening of wonderful memories (" Thank You and Goodnight" /" Sincerely" )
Cast
4 W.
Characters:
Cindy Lou (18, 28) she knows she is the prettiest girl at Springfield High. She knows she will be named Prom Queen and acts out against her best friend Betty Jean when things don' t go her way.
She makes the biggest change between Act 1 & 2, having learned the lessons of true love and loss. Vocal Range: Mezzo-Soprano Belt: E3–F5.
Missy (18, 28) She is the over-achiever of the group. Very controlled, very concerned that everything at the prom turns out wonderful and perfect.Head of the prom decorations committee; and absolutely smitten with her music teacher. Her best friend is Suzy. Vocal Range: Soprano: G3–A5. Wide range, floating high vocals and belting throughout the show. Among the songs she sings lead are: ' Secret Love,' ' You Don' t Own Me,' and ' Wedding Bell Blues'
Betty Jean (18, 28) the class clown, tomboy, always vying for attention with Cindy Lou, her best friend. It' s also highly probably that Betty Jean wants to be with Cindy Lou herself, but just doesn' t even know what those feelings really are. Cindy Lou steals Betty Jean' s boyfriend away, which causes a lot of the friction at the prom. She holds this grudge against Cindy Lou until they make up at the 10-year reunion. Vocal Range: Alto with strong low range: D–E5. Among the songs she sings lead are: ' Lipstick on Your Collar,' ' I Only Want To Be With You,' and ' That' s When The Tears Start."
Suzy (18, 28) Best friends with Missy, she is the happy-go-lucky one of the group –sometimes stereotyped as the ditzy blonde. Always smiling and giggling, nothing ever seems to bother her. In love with the lighting operator, completely surprised when named prom queen. Frustrated, sad, hormonal, andpregnant in Act 2. This role requires an excellent part singer and expert comedienne. WARNING: Do not hire a ditzy person to play the ' ditzy blonde.' Vocal Range: Mezzo-Alto with both sweet and soulful voice: G3–E5. Among the songs she sings lead are: ' Stupid Cupid,' ' Hold Me, Thrill Me,' and ' Rescue Me' .
Instrumentation / Rentals
Keyboard 1 and 2, Guitar, Drums, Reed
Production Costs
14 percent of Box Office.