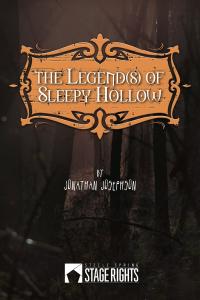 You know one version, the popular version, of Washington Irving's tale of the Headless Horseman of Sleepy Hollow— but wouldn't you like to know what really happened on that fateful night that Ichabod encountered the Horseman? This play reveals all from the point-of-view of the one character who was there and knows the whole truth: Ichabod Crane's horse, Gunpowder.
Adapted from Washington Irving's "The Legend of Sleepy Hollow"
Run Time: 65 min
Cast Size: 3F, 3M (Flexible)
Themes: Supernatural, Romance, Puritanism, Natural World, American Folklore
From the play:
Did you like that little story? The "legend" of Sleepy Hollow— as it were? Ichabod, Katrina and all that— the Horseman, pretty good? Yeah? Fun story? Hmmmmm? Well that's NOT how it happened.
Authors
Plot / Synopsis
Ichabod Crane has journeyed from Connecticut to Sleepy Hollow, New York, for the express purpose of serving as the town's schoolmaster. He is boarded by Baltrus Van Tassel, a substantial Dutch farmer, and father to Katrina Van Tassel, a blooming lass of fresh 18. Ichabod quickly falls for the beautiful Katrina and endeavors to win her heart— but Brom Bones, the Bully of Sleepy Hollow, also has his eyes set on Katrina (as well as her father's substantial wealth). It becomes known that Ichabod loves ghost stories, but that they also terrify him to his core.
At a party, Brom boasts that he recently defeated the local ghost— the Headless Horseman of Sleepy Hollow— in a race that ended at the local church bridge; Ichabod is entranced by the story. On his way home, astride the old horse Gunpowder, Ichabod encounters the Headless Horseman, who begins to chase him! Ichabod flees from the Horseman until he and Gunpowder reach the supposed safety of the churchyard— but they're not safe at all.
The Horseman hurls his cursed cranium at the affrighted pedagogue, who tumbles off Gunpowder in a heap. The old horse flees, as does the Horseman. The next day, Ichabod is gone, with only Gunpowder's brown saddle and curious teething of the remains of a broken pumpkin to give the townspeople any clue as to what happened to the unfortunate school master.
Cast
Storytellers 1-4 (F/M) – The voices and setting of Sleepy Hollow (roles can be divided in half).
Ichabod Crane (M) – A Connecticut Schoolmaster— very friendly, huge appetite.
Katrina Van Tassel (F) – A fair damsel, a bit of a coquette.
Baltus Van Tassel (M) – Katrina's father, a wealthy farmer.
Brom Bones (M) – The self-proclaimed hero of the country round.
School Boy (F/M) – A jerky kid with a secret.
Servant (F/M) – A wise and loyal bodyguard.
Messenger (F/M) – A cranky deliverer of news.
Headless Horseman (F/M) – The terrifying spectre of Sleepy Hollow.
Gunpowder (F/M) – Ichabod's loyal and energetic horse.

Suggested actor doubling for 6 actors:
Storyteller 1/Katrina Van Tassel
Storyteller 2/Baltrus Van Tassel
Storyteller 3/Brom Bones
Storyteller 4/School Boy/Servant/Messenger
Ichabod Crane
Gunpowder
Minimum cast: 6 – 1 F, 3 M, 2 F/M
Maximum cast: 17 - 1 F, 3 M, 13 F/M (additional actors can be used as townspeople, school children, and the world of Sleepy Hollow— trees, scary things in the forest, etc.)
Setting:The play takes place in numerous settings throughout early 19th century Upstate New York. The settings include a school house, the Van Tassel Mansion, several country roads, a glen, and the route where Ichabod is chased by the Headless Horseman.
Production Costs
12.5%