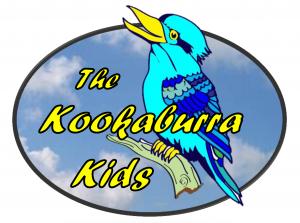 Students at an Australian holiday camp discover that the local Mayor plans to close the camp and redevelop the site.
With local residents they use social media combined with the old fashioned bush telegraph to contact past generations of campers to help them thwart the Mayor's plans and save the camp.
An easy to produce musical for Primary Schools, Middle Schools or Youth Theatre. Simple set, easy costuming.
It has well known Australian songs including Kookaburra sits in the Old Gumtree, Waltzing Matilda and I am Australian with music arranged especially for young voices.
Print music provided for keyboard, guitar chords and solo instruments if required
Also available a great backing track CD suitable for rehearsals or performances.
Act One 45 minutes, Act Two 35 Minutes.
Twenty-five speaking parts and chorus. Some doubling possible.
Authors
Related Shows
Photos
Plot / Synopsis
Camp Kookaburra, is located at a fictitious place somewhere in the Australian bush.
The camp has been a very popular haven and retreat for school students and other groups
of young people from all over Australia for at least three generations.
Some of the campers are enthusiastic and excited about the camp. Some are not happy
campers. But "Camp Kookaburra" has become a family tradition. Here the students learn to
cope with living in a rural setting with no mobile phone coverage, no television, no wireless
internet. Making new friends and finding interesting ways to entertain themselves is a
priority at Camp Kookaburra.
While they are at the camp, the students, through their association with a local farm boy,
named Nick, discover that the local Council, headed by the Mayor, intend to close the
camp, pull down all the old buildings and redevelop the site for something more profitable.
The students hold a protest rally together with the locals to try to put a stop to the councils
plans and save Camp Kookaburra.
"Granite Gully" is a heavily timbered, steep rocky gully nearby. The students are forbidden
to go there, because it is a very dangerous place. A small group of the younger students,
disobey instructions and venture deep into the gully and become lost. While they are
missing the camp leaders fear for their safety and a search is organised. Eventually they
are found safe and sound, but during their escapade they have accidentally discovered
something very important about Granite Gully. The secret they have discovered in "Granite
Gully" may hold the key to their rescue plan.
Use of modern social media by the campers and the old fashioned bush telegraph by the
locals combine to contact many generations of past campers to save Camp Kookaburra,
.......... with some surprising results.
Cast
Female:-
Mrs Evans. Teacher. Camp Leader (Singer.)
Lauren. Snr. Student. School Captain, leader.
Paula. Student. Camera enthusiast. Younger, Gullible
Adrian. Serious Student. Studious type. (Could be a boy if needed.)
Megan. Student. Serious.
Ki Lee. Foreign Exchange Student. Learning English.
Sandra. Snr. Student. Pretty, a little vain, maybe blonde.
Bev. Local girl. Teenager. (Singer.)
Clara. Shire Hall Cleaner. Older.(Cameo Role, could be an adult. Singer.)
Helga. Secretary to the Mayor. (Clumsy, nervous easily rattled.)
Male:-
Mr Evans. Teacher (Singer.)
Nick. Local farm boy. Not one of the campers. (Singer.)
Matt. Student. Queenslander. Bit of a larrikin.
Brian. Student. Quiet achiever. Likes his food.
Jake. Student. Unwilling camper. Computer geek.
Male or Female:-
Mayor. Local Mayor Stevens. As the name suggests. (May be an adult or teacher).
Cameo Speaking Roles M/F
Councillors 1, 2, 3, 4. (Cameo roles.)
Locals 1, 2, 3. (Cameo roles.)
Forest Ranger 1. (Could double with Bev.)
Forest Ranger 2. (Cameo roles.)
Chorus may double as :-
Protesters, Townspeople, Extra Councillors, Cook, Greenies, Campers, Locals, Squatter,
Instrumentation / Rentals
The instrumental parts are as follows: Instrumental C Treble Clef, concert pitch (eg flute, violin, oboe) Instrumental Bb Treble Clef, Bb pitch (eg trumpet, cornet, clarinet, tenor sax etc) Instrumental Eb Treble Clef, Eb pitch (eg alto sax, Eb horn etc) Instrumental BC Bass Clef, concert pitch (eg trombone, cello etc) There is also an optional Bass Guitar part, which could also be played by a tuba.
Production Costs
16% of Box Office