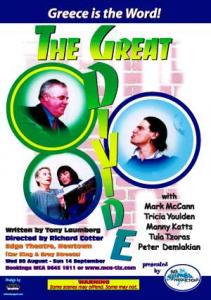 The lives of a well-to-do lawyer and his love-starved wife are turned upside down when a lively young Greek couple move in next door and immediately want to replace the dividing fence with a massive brick wall.
The conflict escalates when the dispute ends up in court and each woman leaves her partner in disgust. This is one crisis that can't be resolved with a bottle of ouzo!
"The Great Divide is good, light entertainment."
"The play's strengths lie in the playwright's considerable wit and well defined characters."
Sydney Arts Guide 2003
Authors
Related Shows
Photos
Cast
HENRY CROWLEY Fiftyish Senior Partner of Sydney's largest law firm. He's a big, imposing man with a definite superiority complex.
MARGARET CROWLEY She is Henry's less than devoted wife who doesn't mind making wisecracks about him considering he doesn't seem to care anyway. Her best friend is any bottle that contains alcohol. She longs for the romance back in her life and only stays with Henry out of some misplaced sense of duty.
ARCHIMEDES ("ARKI")
CHRISTI This intellectual dynamo works part-time with City Rail in the timetables section so he has enough time to pursue his passion for collecting as many degrees and doctorates as is humanly possible.
ATHENA LAZARIDIS She is the epitome of everything sweet and nice and adores her dear Arki. However, she wants him to appreciate her for her mind, something that will unfortunately never happen. She doesn't realise that Arki loves her for who she is and is constantly trying to impress him with her newly acquired knowledge in some area but, of course, always gets it wrong.
THE MAGISTRATE, MR
POULOS Middle-aged man of Greek heritage who does not suffer fools gladly. Has a no nonsense approach to the law and a caustic wit.
Sample Script
Production Costs
12.5% of Box Office.