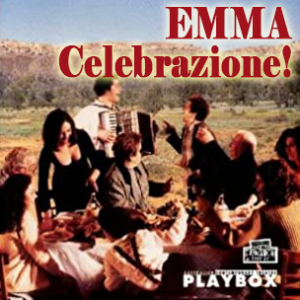 " A sure-fire box office hit, being revived continually around the country"
THE AUSTRALIAN April 17. 1998.
Emma - Celebrazione, is based on the story of Emma Ciccotosto, who migrates from an impoverished Italian rural village to Western Australia at the age of 13. The play opens with Emma, now older cooking for a wedding feast for her family as she regales the audience with tales of her feckless husband and venomous mother-in-law.
"My own life has been a list of battles. If you want to survive you must fight. If you want not to be poor you fight. And if you want a good marriage... then don't fight.I always gave into my husband.... for a little while. Maybe two or three days . You can always get what you want if you have love... and a brain. Always pick the right time. And never waste money. Bank notes are like teeth. They're painful to get, but more painful to part with."
Emma's dialogue is juxtaposed with beautiful singing from a community choir.
At interval the audience tastes her delicious pasta. Here's what the Australian wrote: "Pitt has turned her experiences into a celebration of life, love and survival, to the accompaniment of powerful singing and the aromas of garlic and sugo....When a return season of Emma opened at Brisbane's La Boite Theatre last month, the season had sold out by 10am on the first day of the first performance" (Anne Lim, The Australian).
This play has sold out also in Perth, Sydney, Albury, Darwin, Melbourne and Adelaide.
Authors
Related Shows
Photos
Plot / Synopsis
"Emma" is adapted from the book "Emma --- A Translated Life" (Fremantle Arts Centre Press, 1980) written by Michal Bosworth and Emma Ciccotosto. Much greater detail was suggested in conversations with Michal and, particularly, Emma herself. The songs, collected by Kavisha Mazzella and the choir of "Le Gioie Delle Donne", are traditional pieces from a variety of Italian provinces. The play was originally commissioned and produced by Deckchair Theatre in Fremantle, Western Australia. The contributions and changes to the script suggested by the cast of the original production are greatly appreciated. However the most significant assistance in the development of the script emanated from director Angela Chaplin. Angela e una persona molto creativo.

"Emma" is not realistic. Act One is set in Emma's kitchen, as she prepares food for a wedding reception. Act Two is at the reception. Through-out both Acts she is visited by, and converses with, people from her past. She also at times speaks directly to the audience, as do her "ghosts". The action of the play, transcending Emma's kitchen and the reception Hall, also takes place in a the Italian province of Abruzzi, on board a ship, Fremantle wharves, the small West Australian town of Waroona, Fremantle, etc. etc. These settings should be indicated, if at all, by no more than chairs and a small table. One notable feature of the original production was the use of a kitchen cooking bench, with a gas cooker, that could be easily wheeled to different parts of the stage. The set should never become too elaborate.

The script is mostly in English with the Italian or English that should be in Italian indicated by italics. The dialogue which may be addressed to the audience is a matter for directorial decision as long as lines clearly meant for characters onstage are so delivered. This is a matter of common sense or, as Emma would say, "Use your own judgment."

The characters of the play are seen at different stages of their lives but it is not intended that they are portrayed thus with elaborate costume and make-up changes. The characters of Marianina and Concetta may be played by the same actor. However this will necessitate a change to a scene near the end of Act One and a different version obtained from the writer. The men in the play can if necessary also be played by the same actor. This does not necessitate and changes in the following script.



Cast
Production Costs
14% of box office.