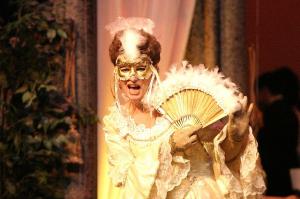 This new translation of the sparkling operetta written in 1874 includes new opportunities for extra Chorus work.
Gabrielle von Eisenstein has been sentenced to five days in jail for hitting a Policeman, but is determined to go to a party. In the original the chrous do not appeart on stage until Act 2. In this edition, staged in the UK, North America and Australia, the chorus appear on stage for 40% of the show as trades people, jail warders and party goers.
Authors
Related Shows
Photos
Plot / Synopsis
Eisenstein has been sentenced to jail for hitting a policeman. His friend, Doctor Falke, persuades him to delay reporting to the prison and go instead to a party being held by the rich young aristocrat, Prince Orlofsky. Meanwhile Eisenstein's wife, Rosalinda, is embarrassed by the return of her former lover Alfred.
She agrees to see him that evening once her husband is out of the way. To have the house to herself she gives her maid Adele the evening off, which suits Adele who has also received an invitation to Orlofsky's party. When Rosalinda and Alfred are alone together they are interrupted by Colonel Frank, the prison governor. To save her reputation Rosalinda pretends Alfred is her husband, and the hapless lover is carted off to jail. At Orlofsky's party Eisenstein is introduced by Falke under an assumed name, and he is embarrassed to encounter Adele, also with a false identity. Colonel Frank appears and he, too, has an alias.
To complicate the situation still further Rosalinda arrives wearing a mask and pretending to be a Hungarian Countess. Eisenstein is enchanted and spends the rest of the evening courting the unknown stranger. He also tells the company the story of a practical joke he once played on Falke which resulted in Falke having the nickname of "Fledermaus", the Bat.
Eisenstein laughs off Falke's hints at revenge, and the party continues into the night with champagne and dancing. The next morning when Eisenstein arrives at the prison, he is amazed to encounter Frank, who refuses to admit him as he already has an Eisenstein in the cells.
The confusion is only resolved by the arrival of Orlofsky and the other party-goers with Falke, who admits the whole affair was arranged by him. The Bat has his revenge.

Cast
Eisenstein (tenor or baritone)
Doctor Falke (baritone)
Colonel Frank (bass)
Alfred (tenor)
Rosalinda (soprano)
Adele (soprano)

Prince Orlofsky (mezzo)
Doctor Blind (baritone)

Frosch (speaking part)
Ida (mezzo)
Chorus
Partygoers, footmen. (original version) (SATTB) 30%
Also servants, tradesmen, policemen (adapted version) 40%
Instrumentation / Rentals
Reduced Orchestration 1 Flute, 1 oboe, 2 clarinets, 1 bassoon, 2 horns, 2 trumpets, 1 trombone, timps, percussion, strings. Large Orchestration also available.
Production Costs
8% of Box Office.