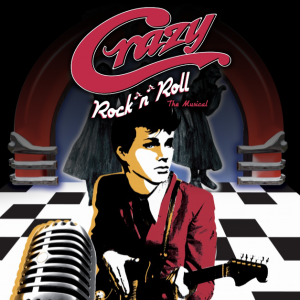 Crazy Rock n Roll is an exciting new musical with songs in the style and spirit of the pioneers of rock n roll.
It is filled with comedy, pathos and catchy musical numbers that will leave your audience enthralled right 'till the end.
The musical is the late 1950's, and VINNIE RUSSO is a 17 year old kid is torn between his love for music and his family traditions. His father thinks that VINNIE is wasting his time with rock and roll music instead of concentrating on his Italian heritage and a solid career in the family small good's business.
Conflict comes to a head when MARIA, VINNIE'S younger sister, leaves home to be with Phil (the guitarist and lead singer in the band Cruisin') and VINNIE joins the band. It takes courage and determination for their mother and an old friend JOHNNY ANGEL to convince their father that this "crazy rock and roll music" may not be such a bad thing after all.
Eventually, the traditional family values stay intact and the RUSSOS come to terms with the Australian way of life. Music becomes the instrument of reconciliation, bridging the generation gap and creating a new cultural harmony and optimism for the future.
Originally called CRUISIN', the musical was staged in Sydney and Perth to capacity crowds. The Sydney Morning Herald described the show as " Footloose" meets " The Shifting Heart" and " CRUISIN' the new Australian musical is the best culture shock this season!"
For more details visit the official website.
Video
Authors
Related Shows
Photos
Plot / Synopsis
Crazy Rock n Roll is a vibrant, energetic and engaging musical story which follows a young Italian kid - VINNIE RUSSO - as he struggles to escape from his
PAPA'S expectations to take his place in the 1950's world of motorbikes, rockand roll - and girls!
Post war Italy is experiencing hard times, and many Italian families are migrating to Australia seeking work.

The year is 1951, and VINCENZO RUSSO, in his mid-forties and VINNIE'S father, leaving his family in Italy, has been in Australia for one year, setting up
a humble smallgoods business.
There is much joy and excitement on the wharf as the young RUSSO family arrives aboard the ship, and reunites to the joyful strains of REJOICE! This is
a song which celebrates the arrival of hopeful families to this new country.

VINCENZO leads the song, accompanied by his old Italian friend JOHNNY DI MACCIO and the chorus. He has the perfect dream for his children to
grow up in the traditional family - the Italian way............

The scene transforms. It is now 8 years later, 1959. VINNIE (17) is attending his final year at school, but juggles playing accordion in his father's Italian
wedding band with a part time job as the cleaner and bottle-washer at JOHNNY ANGEL'S ROCK 'n ROLL CLUB, a teenage hangout.

JOHNNY DI MACCIO, aka JOHNNY ANGEL is a rather street-wise, character. He uses "hip talk" to relate to the teenagers. He has purchased this
run-down eatery and milk bar in town and cleaned up the place, turning it into a rock 'n roll dance venue, much to his old friend VINCENZO's dismay.

He can see that the youth of the day have a voice, and he wants a piece of the action! There is a future in this "Crazy Rock and Roll" music!
JOHNNY is staging the annual "BATTLE OF THE BANDS" heats in his new establishment, leading up to the grand final on New Years Eve.

CRUISIN, the local band led by PHIL STANTON (18), will not only attract customers but will also win the BATTLE OF THE BANDS and gain resident
status at JOHNNY ANGELS! The sky's the limit!

We catch the band CRUISIN' in full rehearsal at JOHNNY ANGEL'S. The band is on stage, complete with dancers and chorus. During the lead break of the song, JOHNNY is unhappy with the band, especially PHIL'S "lousy" guitar work.

JOHNNY makes it clear to PHIL that CRUISIN' must "get their act together!" Ideally, there should be a far more convincing opening to the song with much more exciting guitar work.

VINNIE looks on with more than an interest. Unbeknown to his father, VINNIE is a pretty good guitarist himself. It is VINNIE'S absolute dream to
one day lead the CRUISIN' band on guitar himself.

He also has eyes for PAMELA, the beautiful blonde behind the bar at JOHNNY ANGEL'S. JOHNNY, however, makes it clear to VINNIE that
she is out of bounds.

VINCENZO has VINNIE firmly entrenched in his Italian wedding band playing the accordion. The guitar is simply not an option!

We then see VINNIE becoming side tracked when he suspects his sister, MARIA, is more than just interested in PHIL, who also rides a Harley-
Davidson motorcycle. He follows them to the bikies' clubhouse - the DYNAMITE SHACK and finds his sister MARIA there with PHIL.
A fight ensues, and VINNIE comes off second best. An angry VINCENZO greets a dishevelled VINNIE as he arrives late to play the piano accordion at a wedding gig.
An Italian wedding is in full flight, and VINNIE can't stand the old time music that his father loves. But, during the wedding, he locks eyes with the beautiful, blue-eyed bridesmaid. Lo and behold, it is none other than PAMELA in a stunning outfit that really gets his pulse racing.

They sing a duet for the bride. VINNIE falls hopelessly in love with PAMELA but, much to VINCENZO'S dismay she is not Italian!
When he discovers that VINNIE is after PAMELA, he forbids him to see her.
More problems! PAPA expects that VINNIE will marry the good Italian girl -GIOVANNA, who is the other bridesmaid at the wedding.
VINNIE must give up the girls, his guitar and this crazy rock and roll, settle down and finish his studies. He will go on to university
and ultimately take over the family business.

But VINNIE doesn't take school very seriously, so much so that when he is daydreaming in class he mistakenly kisses the nun and is suspended from
school. VINCENZO confiscates his guitar and grounds him.

Things go from bad to worse. VINCENZO is now thoroughly convinced that VINNIE is involved in this "Crazy Rock and Roll!"

To make matters worse, PHIL, that "no good teddy bear" (Teddy Boy) is always hanging around, hoping to catch sight of MARIA.
When local band RORY STORM and the HURRICANES makes a huge impression at one of the Battle Of The Band heats, JOHNNY issues
PHIL an ultimatum. Get VINNIE to play in the band or else!

VINNIE is the only person JOHNNY can turn to who just might be able to cut the gig. PHIL goes reluctantly to fetch VINNIE.
VINCENZO'S suspicions are confirmed when he discovers VINNIE has sneaked out to play in the band at JOHNNY ANGEL'S.

The situation comes to a head at JOHNNY ANGEL'S, where VINCENZO confronts both VINNIE and MARIA. He grills PHIL about his secret liaisons
with MARIA. He accuses VINNIE of betraying his trust in him and playing this "no good rock and rolla" behind his back. He orders MARIA home for
chasing after this "no good bikie rocka fella" to boot.
JOHNNY tries to intervene but VINCENZO takes no notice. He calls JOHNNY a traitor who has betrayed him for running a joint which encourages these "no hopers!"

MARIA runs away from home. VINNIE vows never to return home. He secretly meets PAMELA in the park but VINCENZO disturbs
them and VINNIE hides behind the park bench concealed by her dress. VINCENZO turns to PAMELA in desperation to find out
what is going on with his kids.

Meanwhile, ROSA pleads for her daughter to come home. MARIA realises she can't go on seeing PHIL while the heat is on and he takes it really hard.
ROSA, too, must try to reconcile the family's differences. She must try to convince VINCENZO to see reason, and to try to understand their kids. She
must reassure VINCENZO that the times are changing. But how?

An unexpected visit by JOHNNY ANGEL to the RUSSO house causes much upheaval. JOHNNY tries to reason with ROSA that
this crazy rock and roll isn't so bad. As JOHNNY teaches ROSA some basic rock and roll dance steps, we see MARIA return home with her
suitcase.

MARIA joins in the dance just as VINCENZO returns home. Will he accept this "CRAZY ROCK AND ROLL?"

When he finds ROSA in JOHNNY'S arms, he threatens to kill him. MARIA plays a vital role in calming down her outraged father, and tries to
make him see reason.

It is Saturday night New Years Eve. There's barely enough time to get to the all-important BATTLE OF THE BANDS grand final night. Can ROSA alone,
bring VINCENZO to see for himself just what their son VINNIE can do?

Will JOHNNY play a strategic role in bringing the family together again? Can he work out a solution that will benefit everyone?

Success here will see all of VINNIE'S dreams come true. At the high-energy rock and roll competition can VINNIE front the band
CRUISIN' and finally take off the coveted first prize in the BATTLE OF THE BANDS?

Can he also win PAMELA'S heart? Will his parents accept that times have changed? Is this CRAZY ROCK and ROLL here to stay?

Music becomes the instrument of reconciliation - bridging the generation gap and creating a new cultural harmony - and optimism for the future.
Cast
VINCENZO RUSSO: [BARITONE] (Papa) Italian, early 40s, ruggedly
handsome features. Quick tempered, domineering and set in his ways, but
also has a humorous side to his character. He is a traditional Italian
musician and operates a smallgoods business. His family comes first!

ROSA RUSSO: [SOPRANO] (His wife) Italian, late 30s, compassionate,
well -meaning. Her family is foremost in her life. Loving wife to Vincenzo,
very protective of her children. Gentle, sincere and has a hidden sense of
humour.

VINNIE RUSSO: [TENOR] (their son) age 17, background Italian.
Feisty, good looking. Loves girls, Elvis, Rock and Roll and guitars. Wants
to realize an ambition to become lead singer of the CRUISIN' band.
Desperately wants to "fit in" with the new teenage rock and roll scene.
Very musically talented. He has aspirations to "reach the stars".

MARIA RUSSO: [SOPRANO] (their daughter) age 16. Pretty, background
Italian.On the surface, seems innocent but loves boys, music and dancing.
She is the apple of her mother's eye. She is also very musical and fashion
conscious.

JOHNNY ANGEL: [TENOR] mid 30s, (real name Johnny Di Maccio),
originally a friend of the Russo family. He is "street wise" with
"connections"! He is clever at manipulating people. He eventually takes
over the run-down eatery in town, sprucing it up and re-naming it
JOHNNY ANGEL'S, a club where teenagers can "hang out".

PAMELA SANDERSON: [ALTO/SOPRANO] age 17, blonde, blue -
eyed and gorgeous. Pamela is a trend setter, right up with the latest
fashions and worldly. She is an outstanding singer and dancer. She falls for
Vinnie.

GIOVANNA PAPARDE: [ALTO] age 16. Very ordinary with glasses but
undergoes a transformation as the new look girl of the next decade. She is
the "Good Italian Girl" in Papa's dream and the perfect match for his son
VINNIE. She is initially shy and reserved with a hidden sense of humour.

PHIL STANTON: [TENOR] age 18, a "Bodgie". Rides a Harley
Davidson and hangs out at the Dynamite Shack, the bikies' clubhouse.
PHIL is rugged and good looking in his own way. Has more than a
passing interest in Maria. Leads the CRUISIN' band.

MINOR CHARACTER ROLES and EXTRAS.

LITTLE VINNIE (9) and LITTLE MARIA, (7)
BACKUP SINGERS: 3 "DO WOP" girls.

CHORUS OF SINGERS AND DANCERS (as many as possible)
(also doubling as school students)

CRUISIN' BAND - Guitar, TONY, Bass, VINCE, Drums with PHIL out
front as guitarist/vocalist

RIVAL BAND: Rory Storm and the Hurricanes - Guitar, Double Bass and
Drums with RORY as lead vocalist.

CARMELLA : GIOVANNA'S mother.

SISTER IMMACULATE a typical "old school" nun.

BROTHER RODNEY school Principal, complete with collar and robes.

BIANCA and GINO The bride and Groom.

WEDDING BAND: MARIO, organ and TONY, drums.

NEVILLE "THE DEVIL" Giovanna's love interest.
Sample Music
Goodbye Caruso, Hello Elvis.
Boys were made to hug and kiss.
No more good Italian girl.
Crazy Rock n roll.
Sample Script
Instrumentation / Rentals
ORCHESTRA: 12 piece. Flute, Clarinet, Alto Sax, Tenor Sax, Baritone Sax, Trumpet 1 Trumpet 2, Trombone, Piano, Keyboard, Bass, Guitar and Drums. Professional scores for all instruments, including complete Conductor's Score. Vocal rehearsal score with piano accompaniment. CD Backing is available.
Production Costs
14% of Box Office.