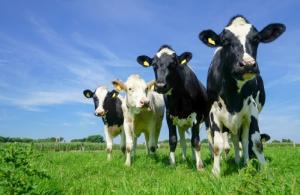 It's the early 1970s and townie Emily Hetherington plans to bring a breath of fresh air to the country village she has just moved to. The action takes place inside a house has been decorated from top to bottom, the garden has been landscaped and above all she has a top of the range Hygena kitchen with the latest in worktops – Formica.
Next she turns her attention to the locals, all, she is sure, starved of culture. Unfortunately for her, not only do they have culture by the bucketful, they also have Thomas. He has always brought his cattle down the lane at the side of Emily's house, and he has no way of knowing that her landscapers have removed the hedge that separated the lane from the garden.
So on the morning that Emily starts to reveal her plans she finds that the locals have some plans of their own. Meanwhile Thomas and his frisky herd of cattle (off stage) are causing chaos in the garden and wrecking the kitchen – her husband's pride and joy.
Emily's desperate attempts to repair the damage, before her husband brings a French couple home to sign up a business deal, ends up with her being arrested by the police for attempted murder, planning to defraud the insurance company and all the while trying to keep Thomas from doing further damage.
Authors
Photos

Plot / Synopsis
The action takes places in the living room of a house in the country in the 1970s. The room is comfortably furnished and includes a settee, an antique table being used as a coffee table (on which there is a sheet of paper), an antique drinks cabinet and a bookcase. There is a telephone and directory on the drinks cabinet, cushions on the settee and several vases dotted about. The coffee table needs a collapsing leg. The drinks cabinet falls over in Act Two, this is easily done if a cord is attached to the back of the cabinet and led through a hole in the scenery. A stage hand holds the cord and controls the fall of the cabinet after it is knocked over. There are three exits… to the hall, to the kitchen, and through the French windows to the garden.
Cast
(4m, 7f) In order of appearance...
Angie Elmers : in her 30s, a Londoner
Marge Brownlow : in her 30s, a Londoner
Emily Hetherington : in her 40s, a posh Londoner, (Needs to wear a skirt or dress).
Thomas Rudgeway :between 30 and 60, a countryman
Gertie Dalrymple : middle aged, a countrywoman, related to Thomas
Ethel Hollowfield : middle aged, a countrywoman, related to Thomas
The Vicar : middle-aged, posh
David Hetherington : Emily's husband, 40s, a businessman
Etienne :a French businessman
Chantelle : Etienne's girlfriend, doesn't speak English
Brenda : in her 20s, a policewoman, related to Thomas
Sample Script
Production Costs
12.5%