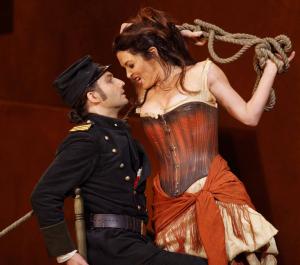 Authors
Plot / Synopsis
Don José is a corporal in the brigade that guards the gates of Seville. Despite his affection for Micaela, a girl from his own village, José becomes bewitched by Carmen, a gypsy who works in the cigarette factory.
When a fight breaks out between the factory women the lieutenant of the guard, Zuniga, arrests Carmen and assigns José to take her to prison. She works on José's feelings and persuades him to let her escape, with the result that he ends up in prison himself for his pains.
On his release he meets Carmen at Lillas Pastia's tavern. She tries to persuade him to desert the guards and join a band of smugglers. At first he refuses, but after he gets into a fight with Zuniga, who is also interested in Carmen, he has no choice but to go away with the smugglers. In their mountain hideout his constant jealousy creates friction with Carmen, who predicts that he will kill her.
When a further rival for her affections appears, the bull-fighter Escamillo, José picks another fight and is only prevented from killing Escamillo by Carmen's intervention. Meanwhile Micaela has followed José to the smugglers' lair to tell him his mother is dying.
He leaves with Micaela, swearing to return for Carmen. Outside the bull-ring, where Carmen has come to watch Escamillo fight, she is once more confronted by José. She refuses to go with him, and he forces her to admit she now loves Escamillo. In a jealous rage he stabs her, and as the crowd are cheering Escamillo's victory in the ring Carmen falls dead at José's feet.
Instrumentation / Rentals
2 flutes (2 piccs.), 2 oboes (1 cor anglais), 2 clarinets, 2 bassoons, 4 horns, 2 trumpets, 3 trombones, percussion, timps, harp, strings
Production Costs
8% of Box office.