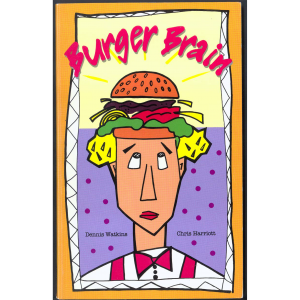 The perfect youth musical with fries and a coke.
Set in Bondi Beach at the largest restaurant of the world wide conglomerate Hackets. "Working for the chain you've got to keep those counters clean."
Everyone loved Waldo he was a worker like everyone else. Then the Brain a computer which runs the whole international business appoints him manager. One of Waldos friends is celebrating his 18th birthday. The Brain orders Waldo to sack him to save money on wages. The burger workers rebel setting up a rival restaurant. Can they bring down the Brain before he takes over the world?
Burger Brain has lots of laughs and great music.
It was first staged by the Australian Theatre for Young People in 1988. One of young stars was a teenager by the name of Toni Collette.
Like Toni the careers of the writing team have taken off. Dennis has written successful operas and musicals. Chris is the wildly successful composer of the Nine network's Hi-Five TV series.
Authors
Related Shows
Sample Music
Hamburgers Today Tomorrow the World.
Instrumentation / Rentals
Keyboard 1 and 2, Guitar, Bass, Sax 1/2, Trumpet.
Production Costs
14% of Box Office.