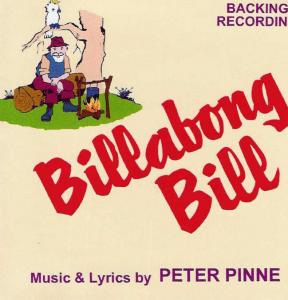 "Songs and storyline simple enough to appeal to a wide age group." (Sun)
A musical set in the Australian bush with conservation as its theme. The animals' water is being polluted by the Useless Chemical Company and Billabong Bill with the assistance of a Minor Mitchell Cockatoo (Mitch), a kangaroo (Big Red), and a koala (Nurse Manna), helps to stop the contamination. A timely children's musical with an environmental message.

Video
Authors
Photos

Plot / Synopsis
Billabong Bill and the animals are upset because the land where their billabong sits has been bought by the Useless Chemical Company. They intend to build a factory on it.
Bill introduces us to Mitch, a Minor Mitchell Cockatoo who dreams of one day becoming a Major Mitchell Cockatoo. Mitch in turn introduces us to Big Red, a champion shadow boxer.
Mitch is his trainer. He bolsters his ego by telling him that one day he is going to be a champion. Big Red accidently knocks Mitch out. He calls for a doctor and Nurse Manna enters down her eucalypt tree with her eucalyptus oil cure, but Mitch recoils at the thought and recovers quickly.
Meanwhile the Professor has erected a sign saying 'Keep out – trespassers prosecuted.' He wants to control, not only the bush, but the world with his chemicals and won't be happy until he does.
The animals ask for Bill's help. They are determined to save their home. The professor poisons the billabong. Mitch takes a drink from it, and is immediately sick.
They all realize the Professor is the culprit and vow to stop him by taking their case to the bush court. The professor is put on trial and he promises to stop the contamination. The animals don't believe him. Mitch and Bill break into the Useless Chemical Company where the Professor is concocting a new chemical.
They put water from the polluted billabong into the Professor's drinking water. Meanwhile Big Red is getting ready for the shadow boxing championship. Mitch spurs him on. The professor drinks the polluted water and becomes sick. He calls for help. Nurse Manna gives him some of her eucalyptus oil cure and he recovers. He rethinks his plans and stops the contamination.
Big Red wins the shadow boxing championship and Mitch becomes a Major Mitchell Cockatoo.
Cast
Billabong Bill – 30-40 A swaggie who lives in the bush. The animals and birds are his friends. A warm, kindly man. Folk singer range.
Professor 40 The evil owner of the Useless Chemical Company. He is all about big business and profits. He is determined that no one will stop him. Light tenor voice.
Mitch 25-30 A Minor Mitchell cockatoo. A Cocky, with a big mouth. He trains Big Red in shadow boxing.
Big Red 30 A big red kangaroo who is a shadow boxer. He dreams of one day winning the shadow boxing championship. A bit dumb, but a lovable lunk.
Nurse Manna 25 A koala who is the bush nurse. Warm, friendly, and totally efficient when she's administering her herbal remedies.

Instrumentation / Rentals
CD Backing. Piano or small group.
Production Costs
14% of Box Office Gross.