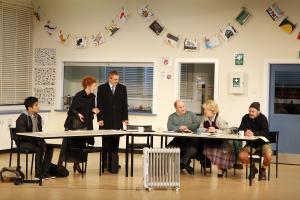 "A charming comedy...full of up to date gags and finger on the pulse problems." Sydney Morning Herald.
"There is something to offend just about everyone in Jonathan Biggins's deliciously light and perfectly pitched jokefest." The Australian.
"If you want social satire and huge laughs at the expense of, well, just about everyone in our sun drenched country, Australia Day is just the ticket." Herald Sun.
After several tours of duty as an Australia Day Ambassador in regional NSW Jonathan Biggins' initial scepticism about celebrating the national day melted like a Lamington in the mid-day sun. It showed him the warmth, dedication and quiet patriotic pride of the organisers and the towns they served. The experience also whet his appetite to write a comedy that takes aim squarely at another hallowed institution – the committee.
Australian's All....Theatres staging the play have the option of using an alternative title Australian's All. Jonathan Biggins has written a few extra lines about changing the date of Australia Day to be included in productions which use the alternative name.
Video
Authors
Related Shows
Photos
Cast
Brian
45-plus, Mayor of Coriole Shire and preselection candidate for the Liberal Party. Chair of the Australia Day Organising Committee. Small business owner, Rotarian.
Robert
45-plus, Deputy Mayor of Coriole Shire and loyal Deputy Chair of the Committee.
Maree (pronounced Mah-ree)
60-plus, President of the local Country Womens Association. Long-serving committee member.
Wally
55-plus, local builder and small scale developer. Long-serving committee member.
Helen
35-plus, local Greens councillor, a relatively new arrival to the shire from the state capital. New to the committee.
Chester
25-plus, newly arrived Australian-born Vietnamese primary school teacher. Very new to the committee.
Sample Script
Production Costs
12.5% of Box Office.